Eataly and their Ravioli di Zucca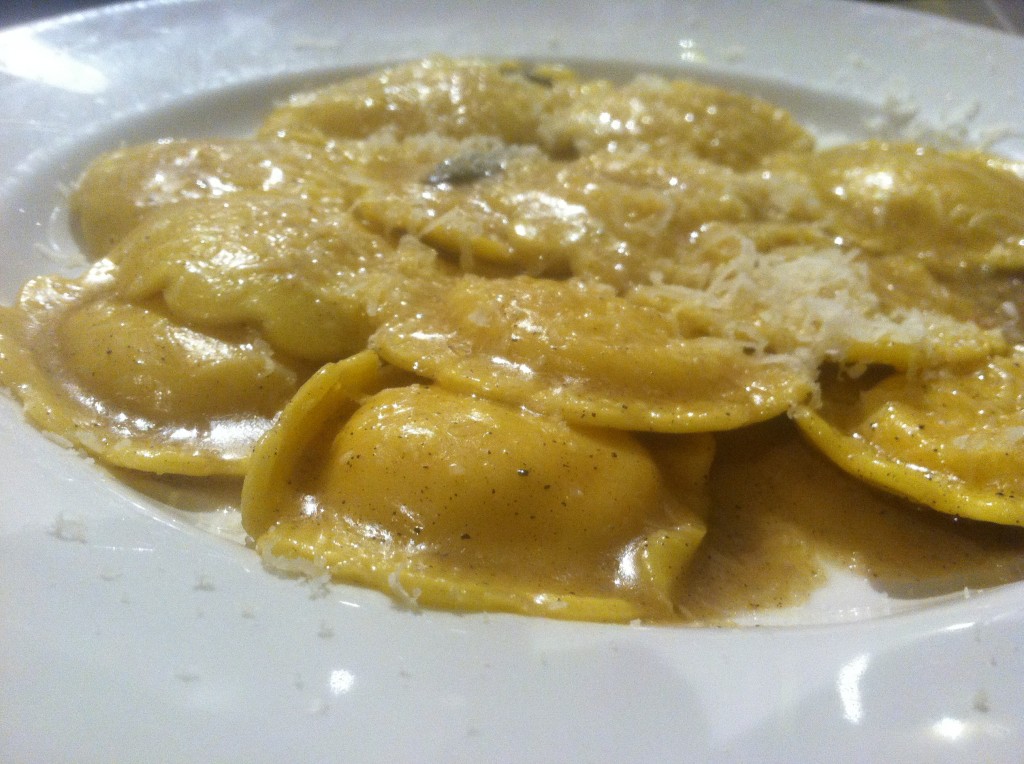 Have you been to Eataly?  It is one of my most favorite places in the world.  A perfect afternoon is having a glass of wine as I walk through Eataly, perusing first the chocolates and down the isles lined with Italian cookies and candies.  Past the rows of cured meats and specialty cheeses and dairy products.  Admiring the butcher shop, and the fish counter, the charcuterie stand, bounties of fresh produce, flowers, and fun stuff for the kitchen.  I always enjoy watching the pasta makers hand sculpt each little tortellini or the fresh bread samples lined up in a row.
In the middle of the market, there are several amazing little open air restaurants with guests enjoying their foods and people watching.  I can easily spend hours here looking at all the products and having a few snacks.  Don't forget the gelato or coffee on the way out!
La Pizza & La Pasta has a delicious house-made ravioli stuffed with roasted butternut squash, topped with shaved grana padano cheese and crushed amaretti cookies, in a brown butter and sage sauce.  The cookies provided a light crunch and extra sweetness to the dish.  Overall the sweetness of the squash created a warm feeling when paired with the butter and sage, and a nice bite from the cheese.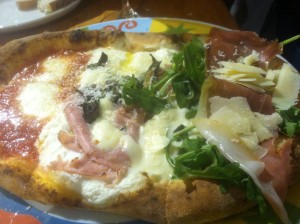 The Fru Fru pizza is an exciting combination of flavors in this special oval shaped 3-season pizza.  The flavors start from the left with a simple pairing of mozzarella and tomato sauce.  Next is ricotta cheese and ham, and finishing with parma with arugula and more grana padano shavings.
If you ever find yourself near Madison Square Park, you should definitely check out Eataly.  The open market makes running errands more of a culinary adventure rather than a chore.
Here is a glimpse of Eataly from the inside (PS – image from Eataly.com)