Persian Frittata Koo Koo Sabzi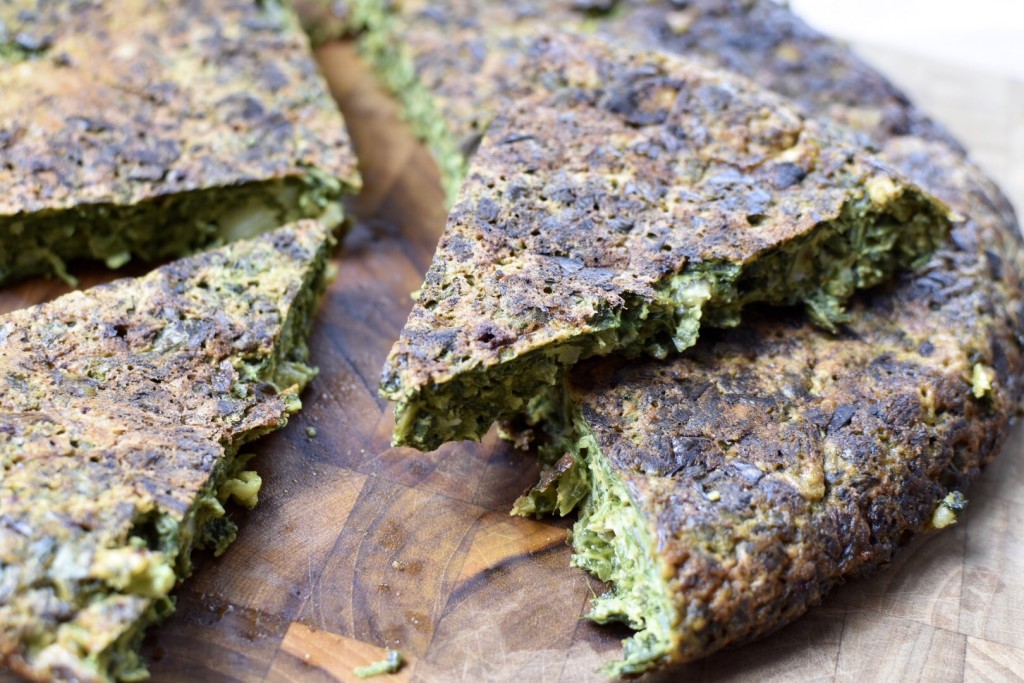 Despite it's funny name, Koo Koo is a tasty Persian fritata which can be served as an appetizer or light meal.  Koo Koo is a vegetarian dish most often made with spinach and herbs (called KooKoo sabzi), potatoes (KooKoo seebzamini), or sometimes with other hearty vegetables.  I have made several different variations including sweet potatoes, onions, broccoli, nuts and even with brown rice.  (You can see a video of a version I made with zucchini and summer squash at the bottom of this page).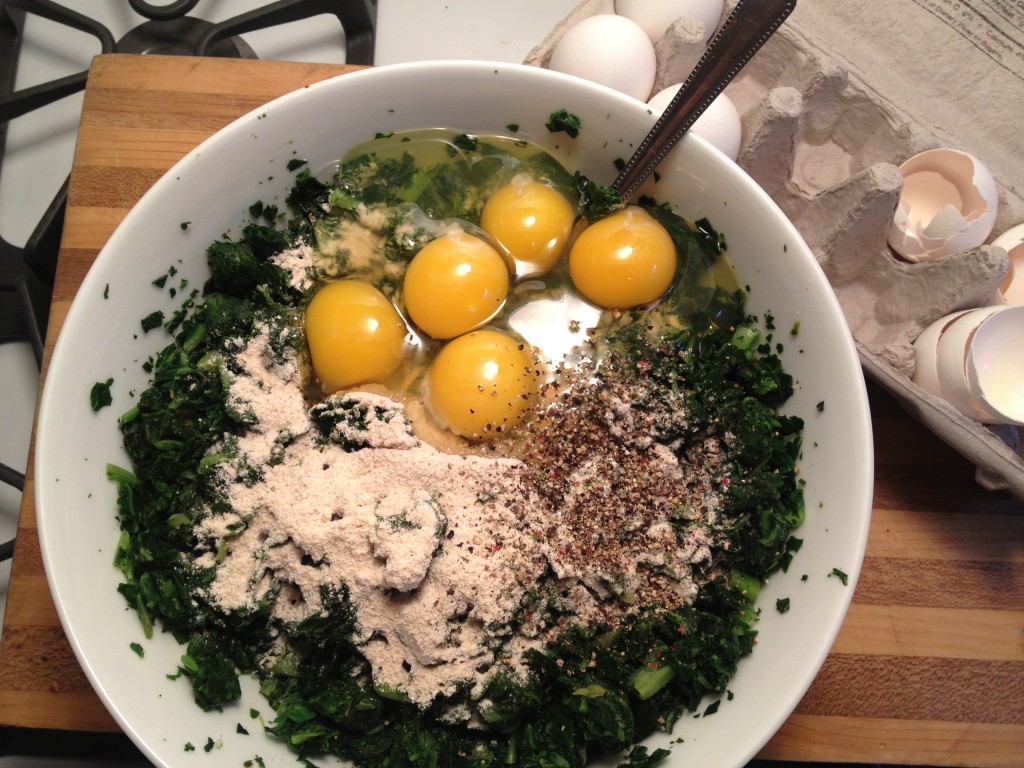 The standard way to make Koo Koo Sabzi is to finely chop up a few bunches of fresh spinach and herbs like parsley, cilantro, scallion greens and/or any other greens you have on hand.  To that you add turmeric, salt, pepper, a heaping tablespoon of all-purpose flour, and 5-6 large eggs.  Mix well to combine and set aside while you prep the oil.
A standard 8-10 inch teflon frying pan, with a lid, works well to cook the Koo Koo.  Heat enough oil to coat the bottom of the pan until hot.  You can test the oil to see if it is ready by placing a little bit of the mixture in the oil – if it sizzles up the oil is good to go.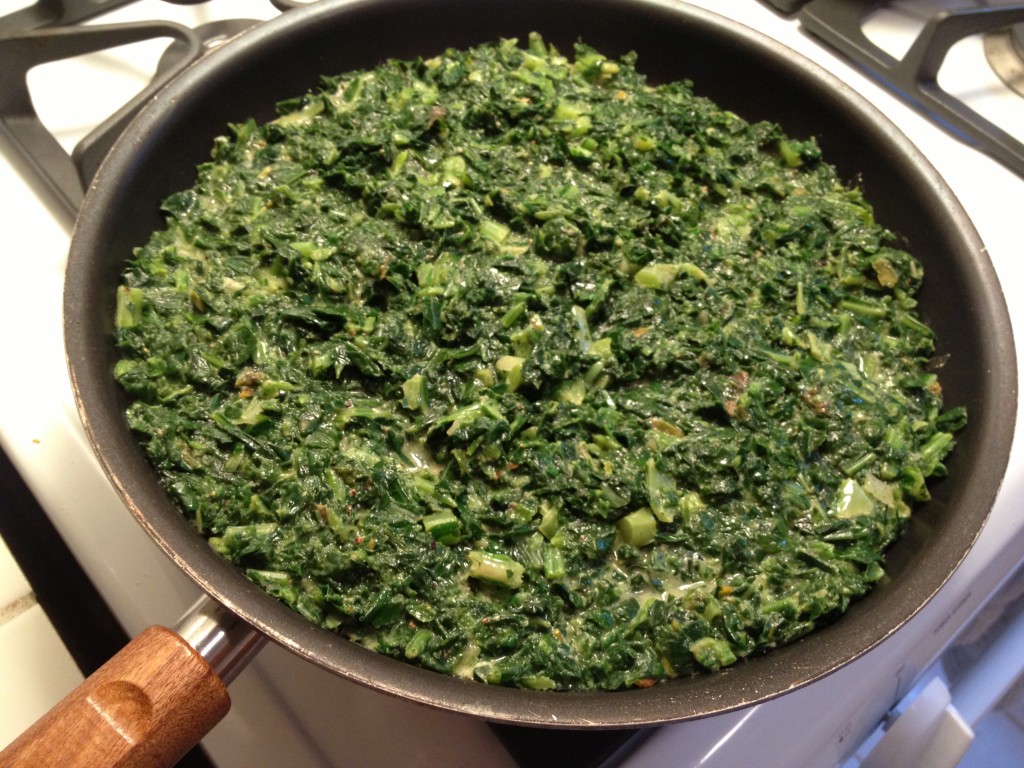 Carefully and quickly add all of the mixture to the pan.  Use a wooden spoon or spatula to smooth over the top and edges.  Reduce the heat slightly and cover for about 7-10 minutes or until the bottom of the soufflé is a light golden brown.
At this point, you will need to flip the soufflé, and you have 2 different options to do so.  One way is to invert the pan onto a platter and then carefully slide it back into the pan.  This can be a little messy but will allow you to keep the soufflé whole if you prefer for presentation aesthetics.  The other more rustic way, which is more typical of Persian households, is to use the side of a spatula to divide the koo koo into 4 or 6 slices, right in the pan, and then flip them individually.  You don't need to cover the pan when the second side cooks.
Once the Koo Koo is cooked through, remove from the heat serve at room temperature.  You can pair with soup or salad, or make into a sandwich with tomatoes and pickles.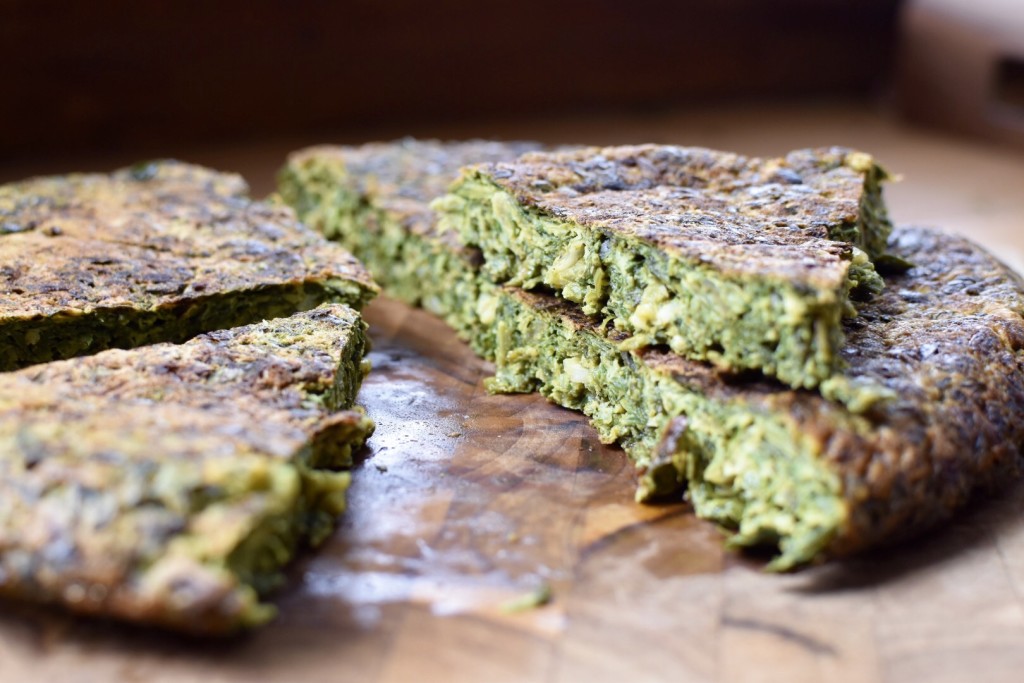 One way that I enjoy making Koo Koo is in individual serving sizes for an appetizer or snack.  I coat a metal cupcake pan with spray oil and then fill the cups half way with the Koo Koo mixture. I cook them for about 25 minutes or until they are cooked though and browned.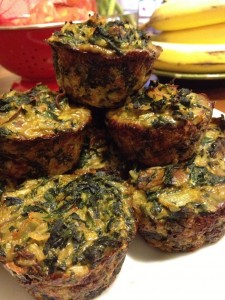 For the mini Koo Koo sabzi featured above, I used the addition of sautéed onions and mushrooms and was pleased with the results.  If I have left over roasted vegetables, I sometimes use that as well.  My round Koo Koo below is made with spinach and kale. Feel free to try different variations of your favorite vegetables to come up with your own unique flavor combination.  Enjoy!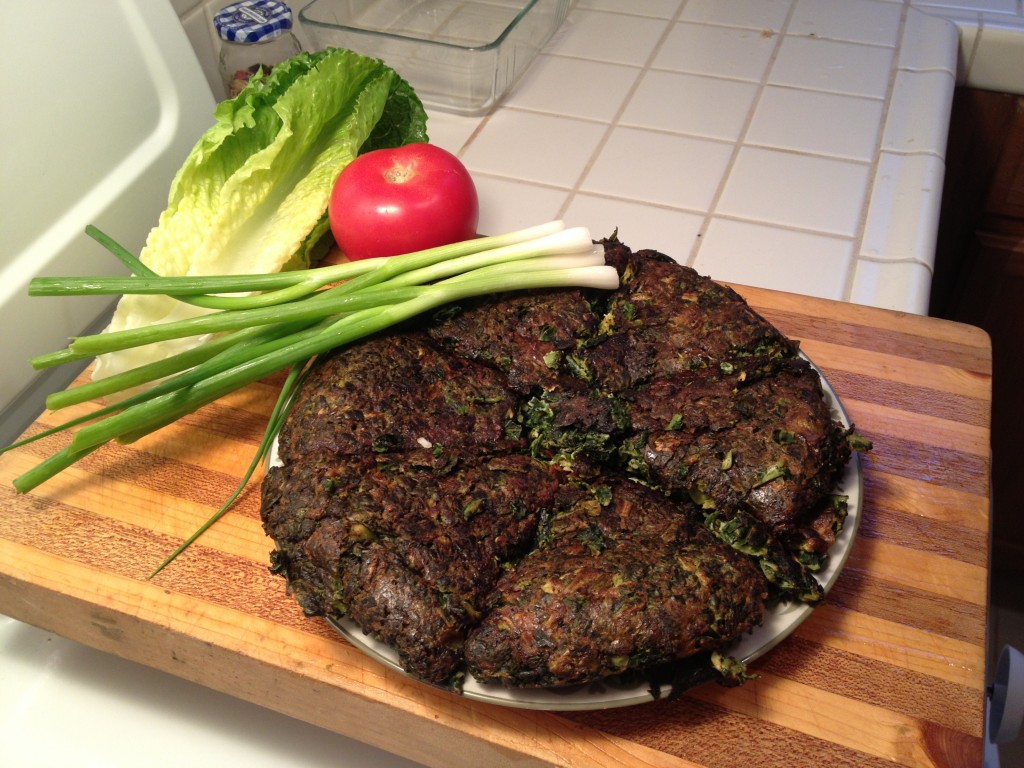 Ingredient List:
1 Package chopped organic spinach leaves, thawed
5 large eggs
1 heaping tablespoon whole wheat flour
1 tsp salt
1/2 tsp ground pepper
1 tsp turmeric powder
1 tbsp curry powder (optional)
1/4 cup cooked brown rice (optional)
1/2 cup cooked vegetables (optional)
Recipe:
Combine all ingredients and mix well.
Heat canola or olive oil in 8-10 in sauté pan on medium-high heat.
Add mixture to pan all at once and smooth to even layer.
Cover and cook for 7-10 minutes until golden brown.
Flip and cook uncovered for an additional 5-10 minutes until second side is browned.
Here is a video of Koo Koo made with summer squash and zucchini – hope you like it!
And here is my video of Koo Koo Sabzi: