Roasted Zucchini and Minted Queso Blanco Crostini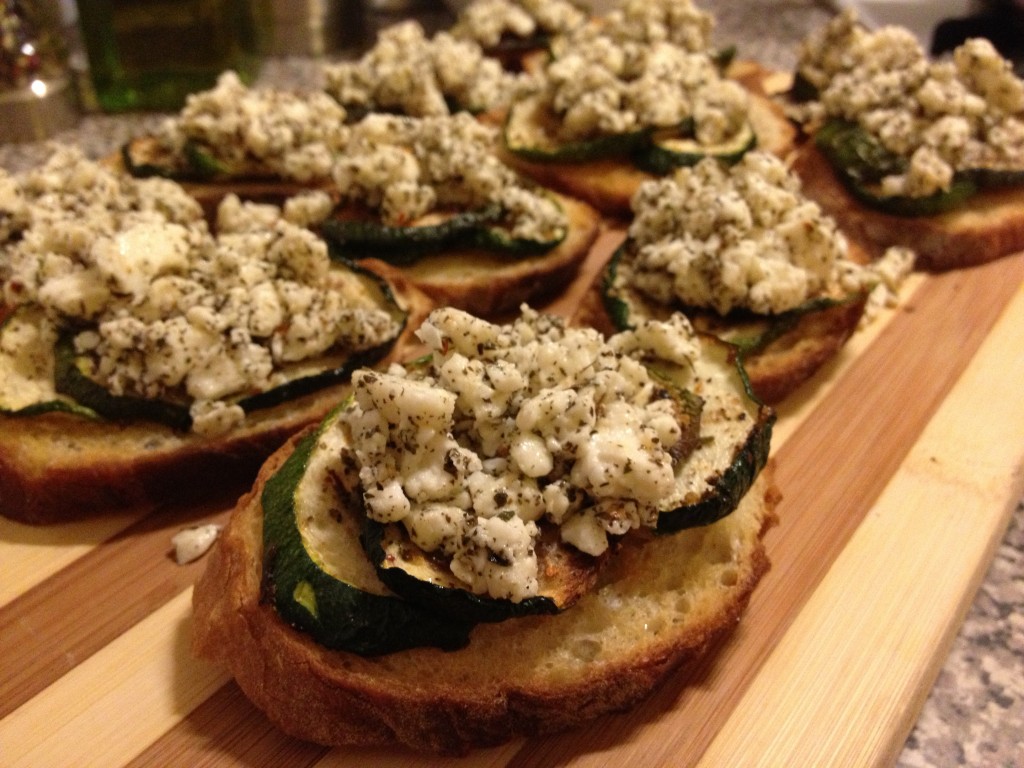 Crostinis are the perfect appetizer and the flavor possibilities are literally endless.  They are easy to make and usually a hit at parties.  The best part is you can make them in advance and enjoy eating them when your guests arrive.
My favorite way to make them are on toasted baguette slices.  I brush both sides with olive oil and bake in a hot oven for about 10 minutes.  While they are still warm, I like to rub a fresh piece of garlic on them to add a pleasant taste and aroma.  I was surprised at first to see how much of a difference the little bit of garlic makes.  It's subtle enough that you don't need to worry about a strong garlicky taste, yet it adds the perfect amount of flavor.  If you don't have time to make your own baguette slices, you can always substitute with high quality crackers.
As for the toppings, your local market can provide a cornucopia of options.  You can literally make any flavor combination that you like.
For today's recipe, I used roasted zucchini and queso blanco with dried mint leaves.  I sliced and baked the zucchini the same way that I did the baguettes although I just added some salt and pepper to it as well.  Once they were lightly browned I removed and allowed to cool.  Separately, I mixed the queso blanco with some olive oil and added dried mint leaves.  The olive oil added a little extra silkyness and the mint leaves provided a delicate flavor and visual appeal.  I then assembled and set on a nice wooden cutting board, my new favorite serving platter.
I mix up my flavor combinations often.  I've recently fallen in love with farmer's cheese and enjoy using that as a topping.  A favorite is farmers cheese topped with prosciutto and dates, with a little drizzle of balsamic vinegar on top.  The balsamic adds a bit of sweet and sourness that brightens the crostinis.  It is also a great way to showcase your sweet or savory jams as well.
Crostinis are a versatile appetizer and can be modified to meet your guest's dietary restrictions or to use items you already have in your refrigerator.  I like to serve a minimum of 2-3 baguette pieces per person with at least a few extras.  Experiment with your own unique flavor combinations and impress your friends at your next cocktail party!