7 Easy Cocktail Party Appetizers!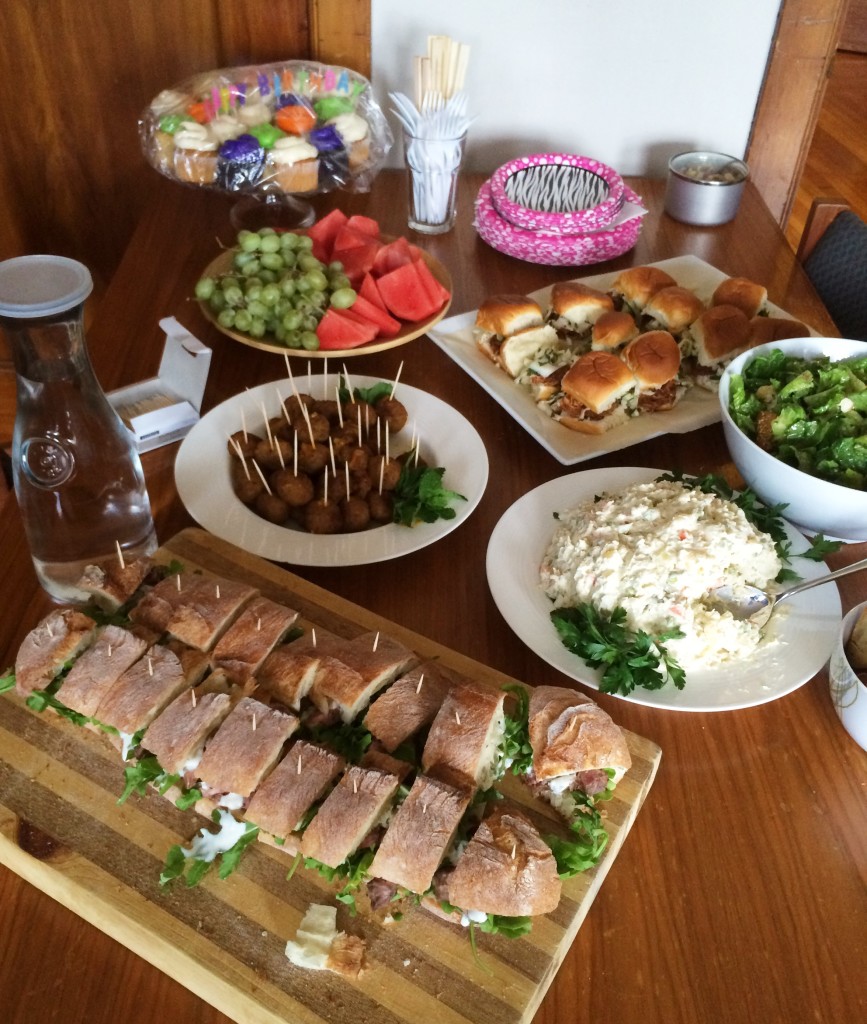 I love entertaining.  I love cooking for people and hosting them in my home.  I don't live in a big apartment nor am I am exceptional cook, but I really enjoy having people over and eating with them!
I've modified some of my favorite meals into appetizer portions and people love the results.  It makes throwing a party so much more manageable and fun that I'm already looking for another excuse to have one!  The recipes are semi homemade which makes them authentic, without breaking your party budget on just the food – here are my top 7 picks!
1. BBQ Chicken Sliders: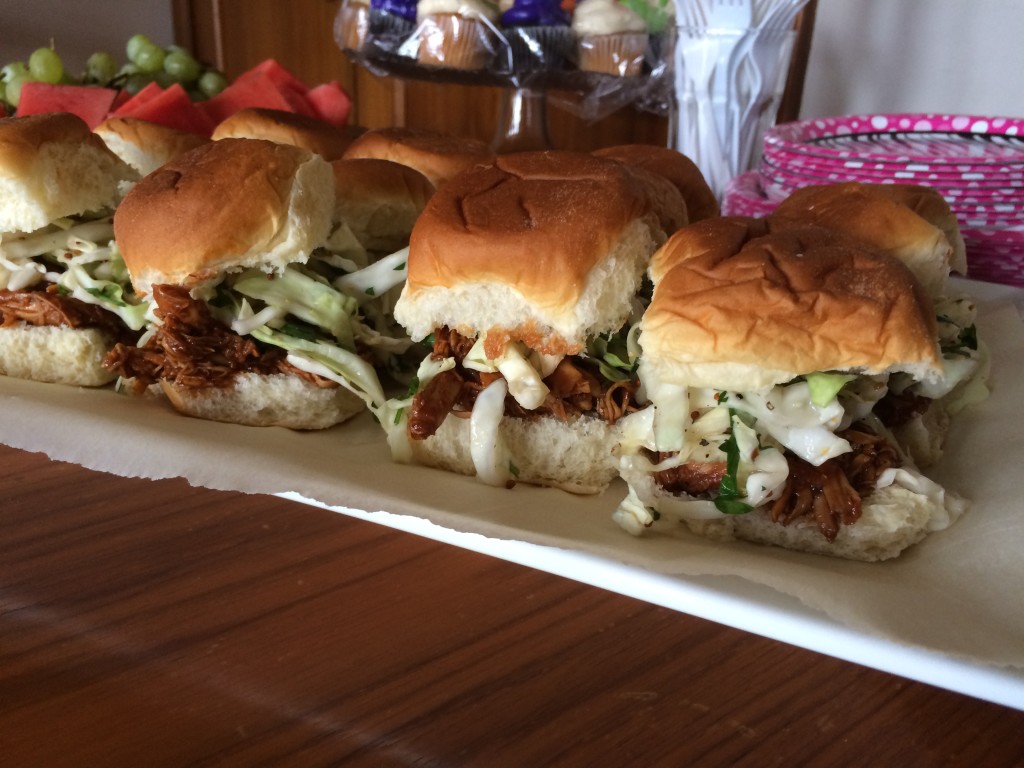 These sweet and tangy sliders are a crowd pleaser and so so easy to make.  I shredded the meat off of a rotisserie chicken and mixed with my favorite store bought BBQ sauce.  I sandwiched it inside sweet Hawaiian rolls along with a simple slaw of cabbage, parsley, vinegar, and grainy mustard.  Placed them on a big platter and it looked as good as it tasted!
2. Mini Rib Eye Steak Sandwiches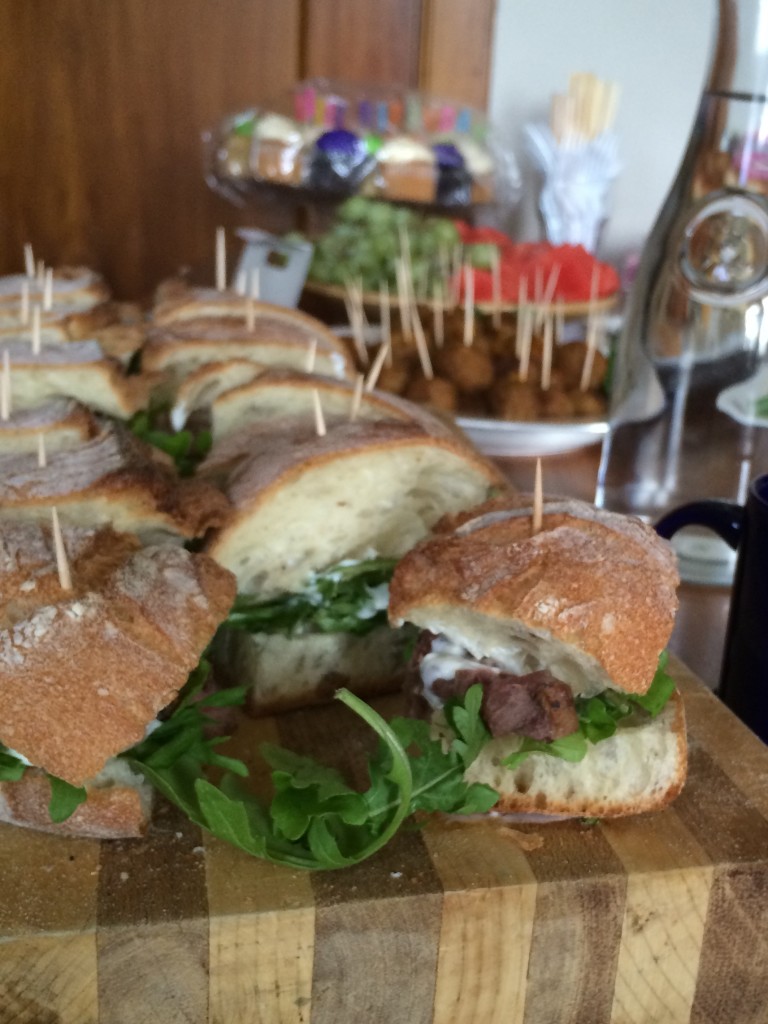 The rib eye sandwiches are a show stopper.  Served on a big cutting board, with steak and arugula overflowing a ciabatta loaf, drizzled with homemade horseradish sauce, this appetizer is sure to make guests mouth water!
3. Beef Meatballs with BeatsEats Harissa Sauce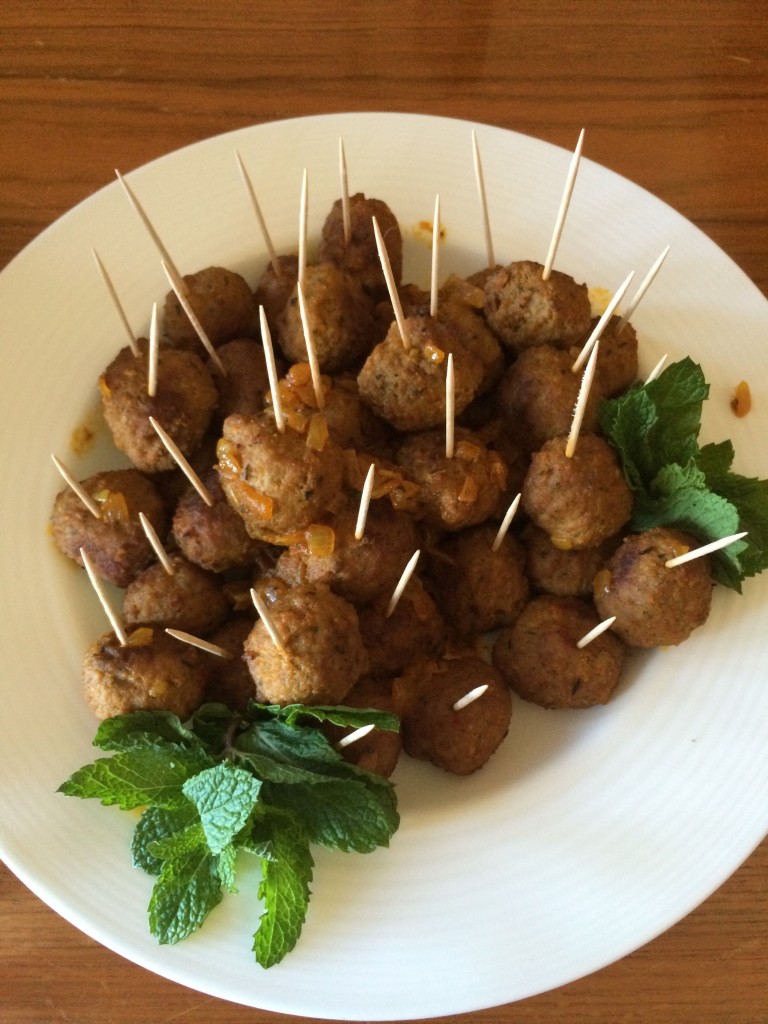 This semi-homemade treat is a cinch to make.  I made a quick sauce of sauteed onions, harissa, tomato paste, turmeric, and a splash of water, and tossed it with frozen beef meatballs baked in the oven.  Presented with toothpicks and garnished with mint leaves, your guests wont be able to eat just one!
4. Caeser Salad with Homemade Croutons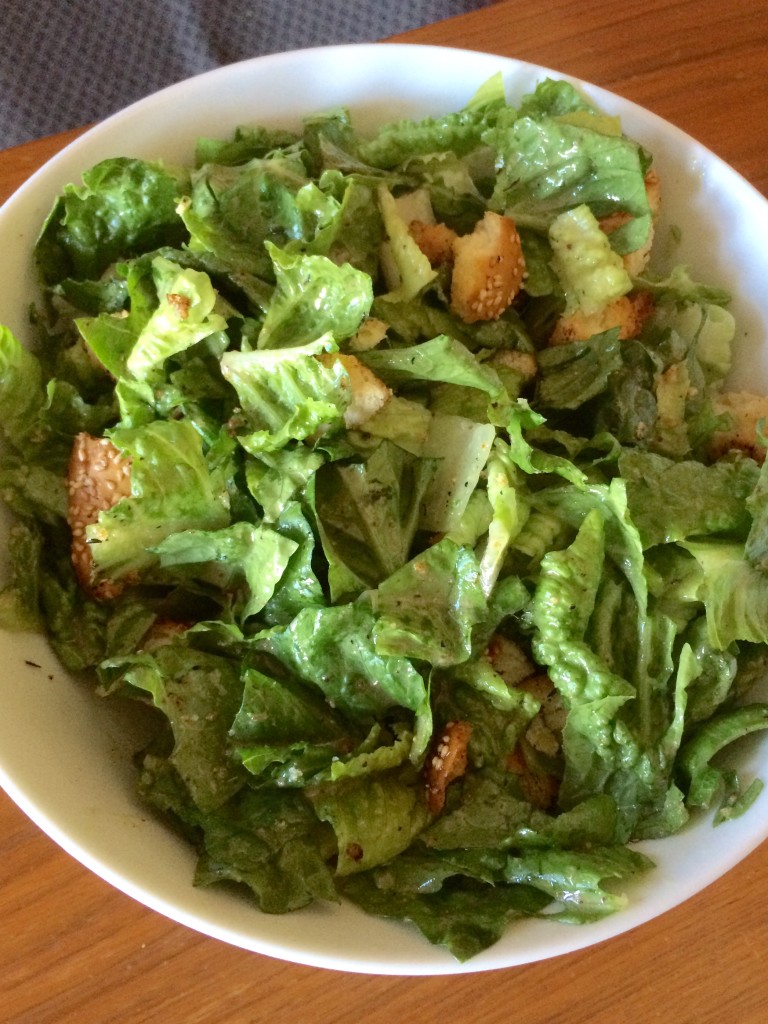 I dressed up romaine lettuce and Caesar dressing with homemade croutons for a homemade touch.  I tossed cubed bread with olive oil and Italian seasoning and baked at 400 until brown and toasty.
5. Salad Ooloovieh with Garlic Crostinis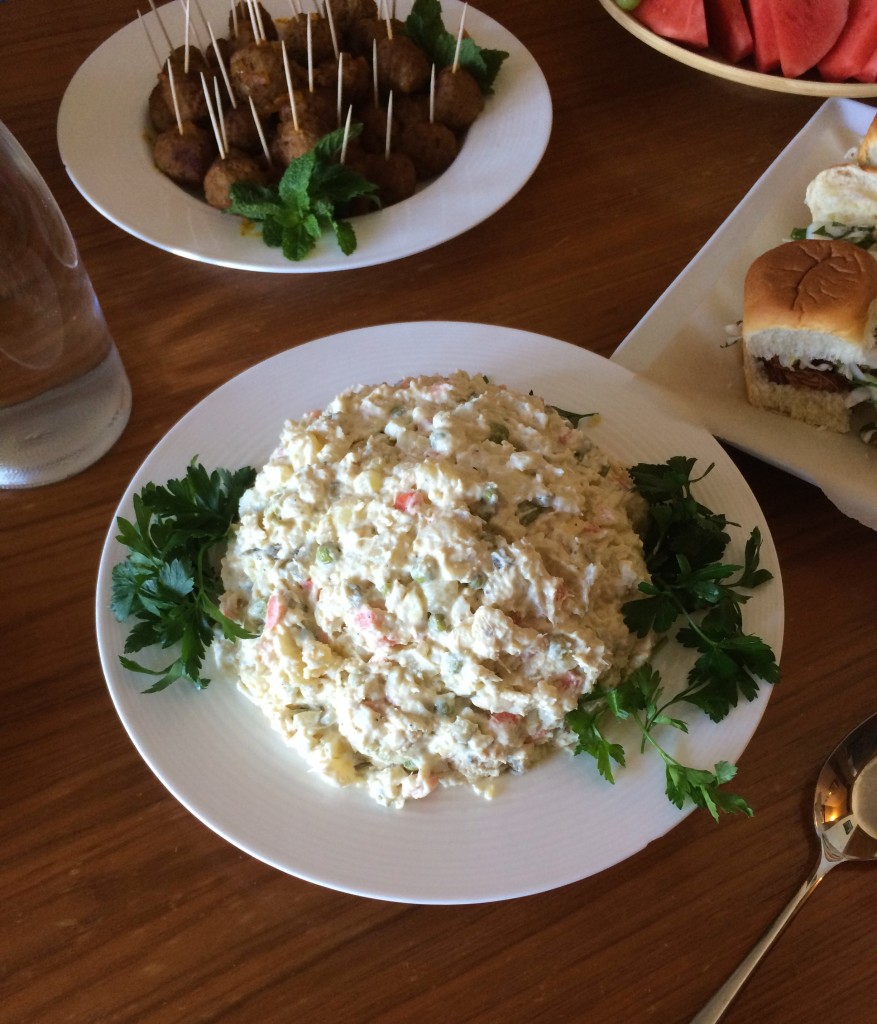 This Persian chicken and potato salad (Salad Ooloovieh) is another fan favorite.  Creamy and crunchy the salad includes hard boiled eggs, peas, carrots, pickles, mayo, and lemon juice. Any type of potato or pasta salad rounds out a party food spread.  Pair with crostini bread toasted in the oven and rubbed with garlic for a crunchy addition.
6. Broccoli and Spinach Koo Koo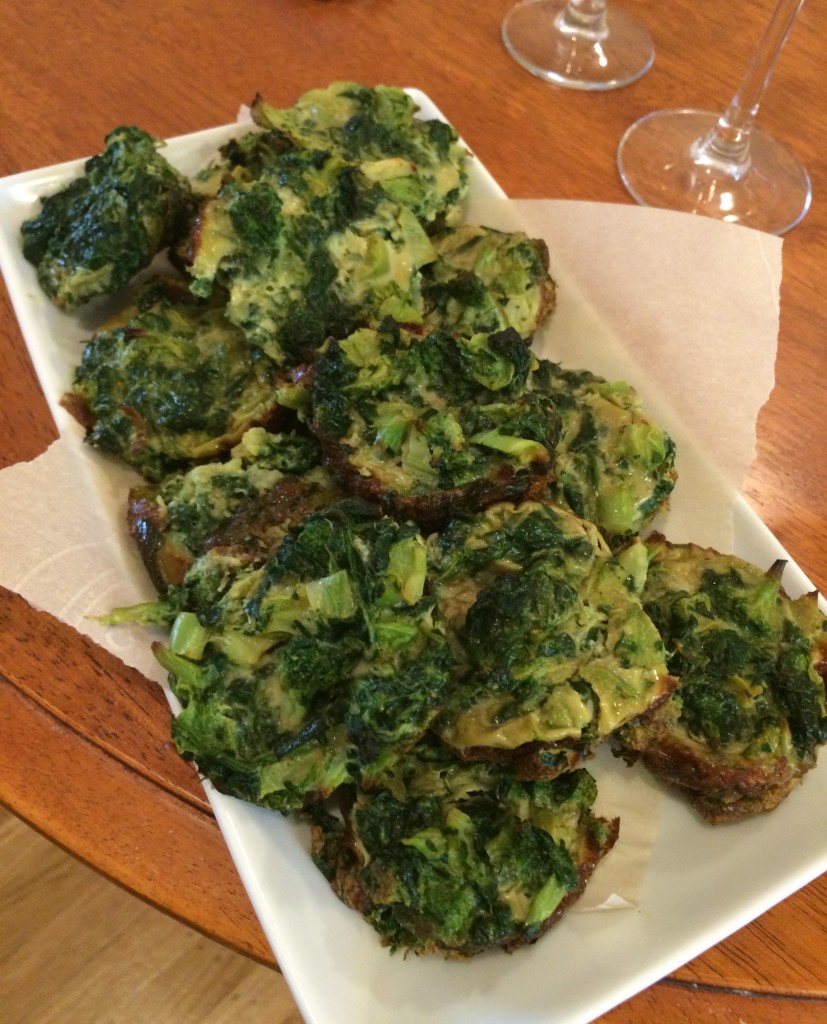 These mini Persian frittatas (called Koo Koo) are vegetarian but will win the hearts of all your meat eating guests as well.  Baked in cupcake molds they are already in individual portions and ready to serve.  Get the recipe here: Koo Koo Recipe
7. Have fun! These recipes can be prepped and assembled before your guests get there so you can enjoy the party as well.  Have fun cooking and people can taste it in your food!
Cheers!