Giti Joon's Famous Tacheen Recipe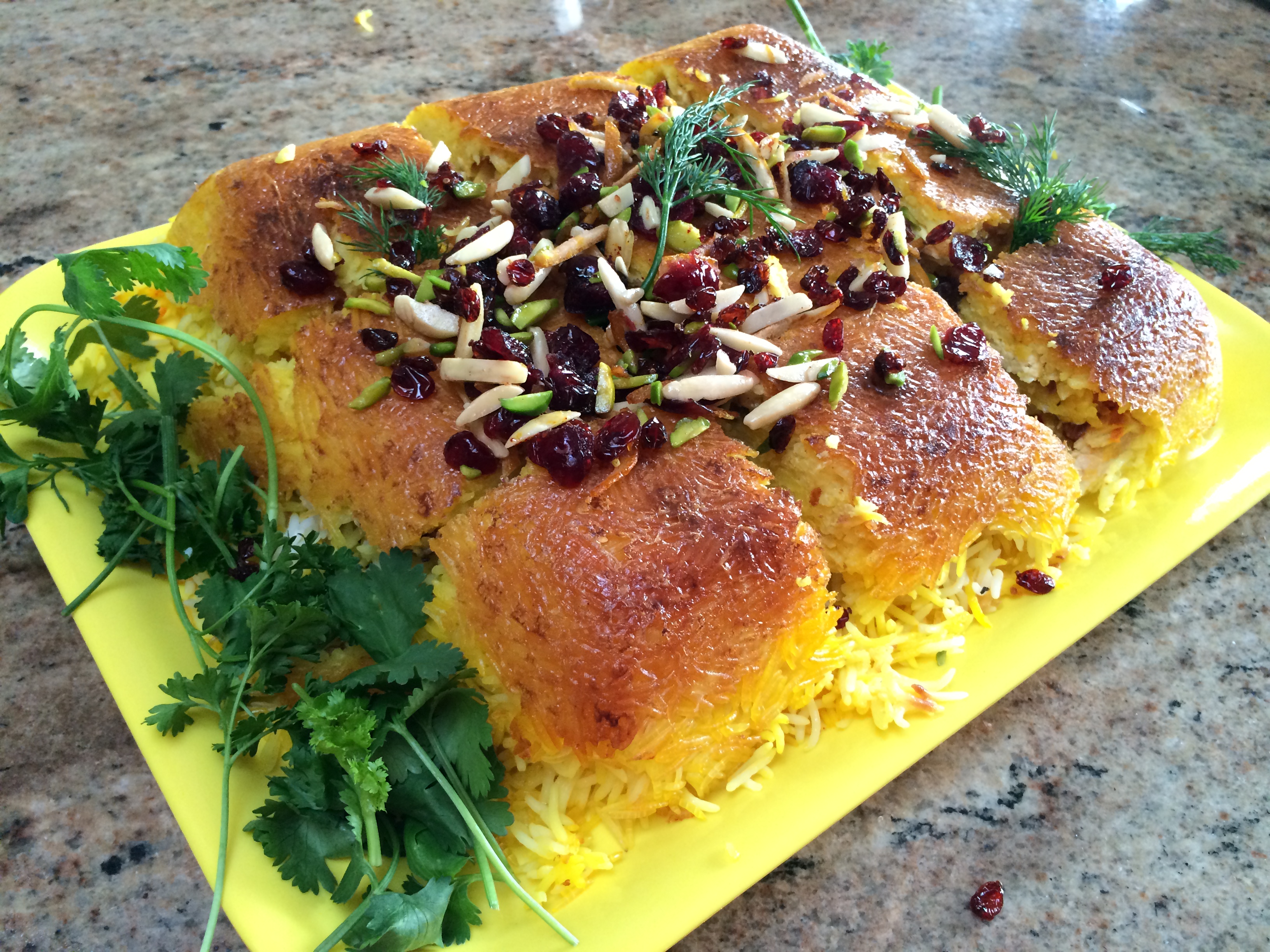 My aunt Giti Joon is a master of the baked Persian rice dish, Tacheen. Her tacheen is rich with saffron, jeweled with dried berries, pistachios, and candied orange peel, and crusted with a thick and golden tadeeg crust that makes everyone's mouth water!
It's her signature dish and I am so excited she agreed to share her recipe with me as a Guest Chef on my blog!
This dish is all about layering.  Ingredients are layered one at time at every step, allowing each one to hold its integrity and flavor profile.  It's also about Saffron.  I think this recipe calls for the most Saffron than any other Persian dish.  Apparently, you know you've used enough if the house smells like saffron when you open the front door.  That's a lot of saffron 🙂
Let's get to it!
First off, cooked chicken needs to be marinated in a mixture of yogurt, olive oil, cumin, lemon juice, bloomed saffron, eggs, and salt/pepper. In that order.  Mixing well after each ingredient is "layered" in.
Once the marinate is well combined, separate out about a third of the mixture to add in the dish later.  To the remaining, add shredded chicken, cover and put in the refrigerator for a minimum of 3-4 hours, but ideally over night.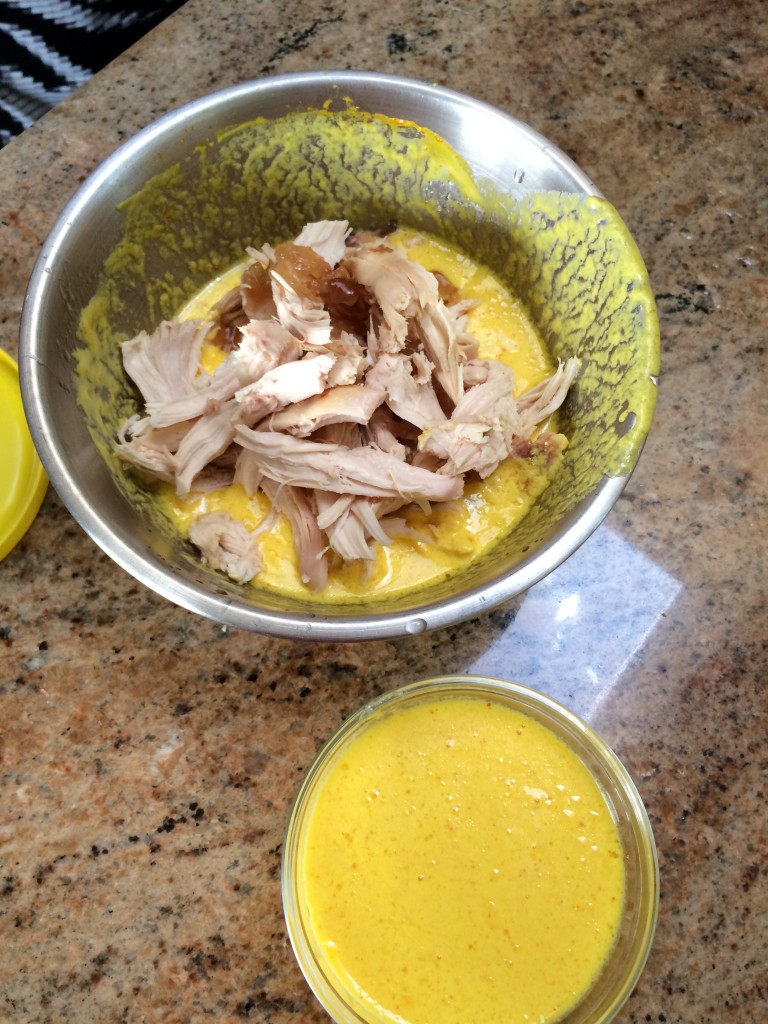 The other prep you can do the night before is to soak your rice.  Place rice, covered in a bowl of very salty water, to not only speed cooking time but to protect the delicate rice grains as well.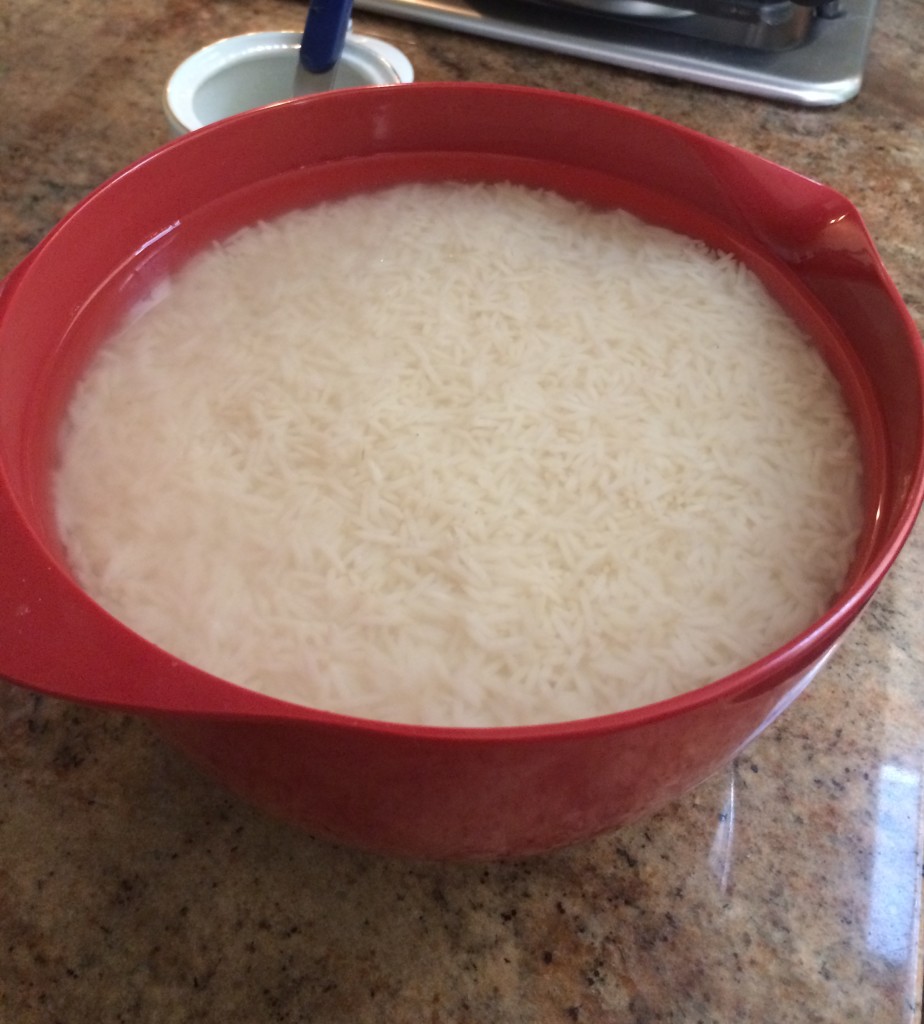 Now to get to the real cooking!
Saute "Zereshk" (barberries) in a few tablespoons of butter and olive oil.  They burn quickly so just a light saute will do.  Also add a few tablespoons of sugar at this point too.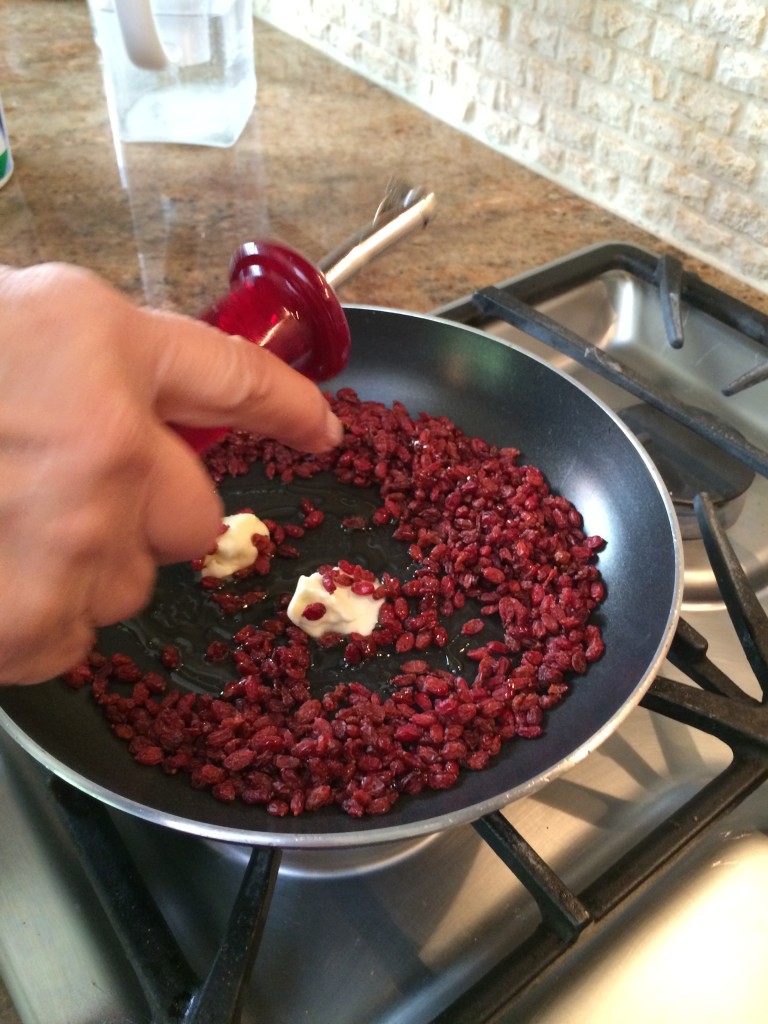 Next add in a handful of dried cranberries.  Continue sauteing.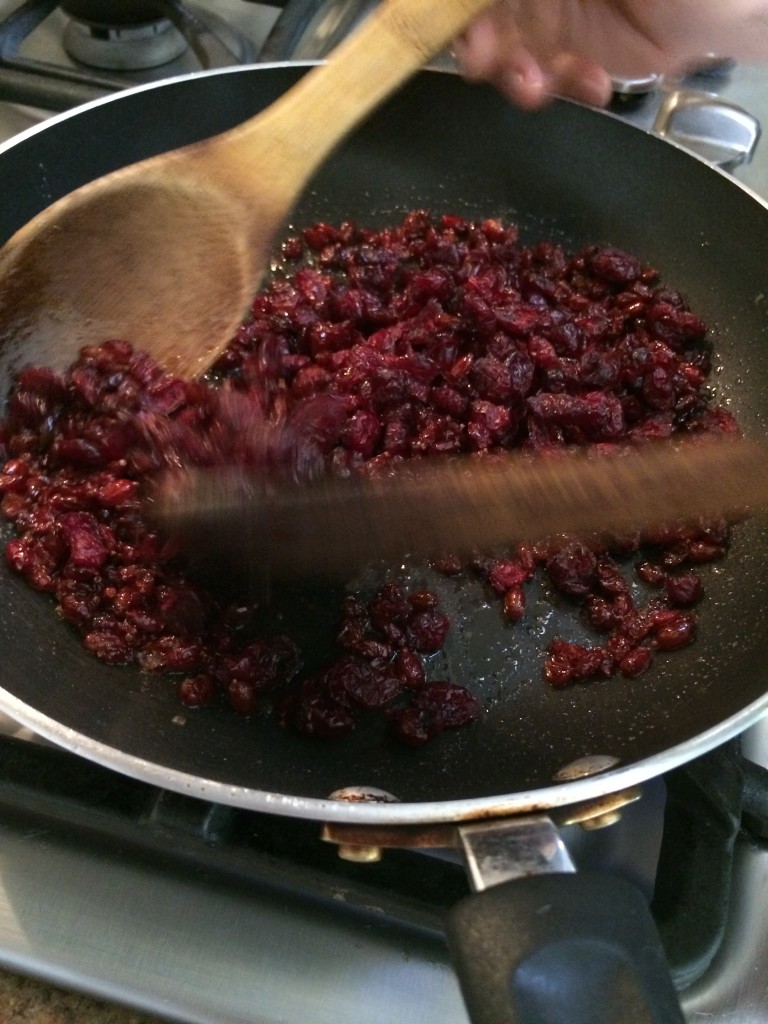 Then layer in candied and julienned orange peels.  To candy the orange peel, boil the juliennes in plain water, 3-4 times, each time draining and refreshing the water, then add sugar. Combine with the Zereshk and continue sauteing.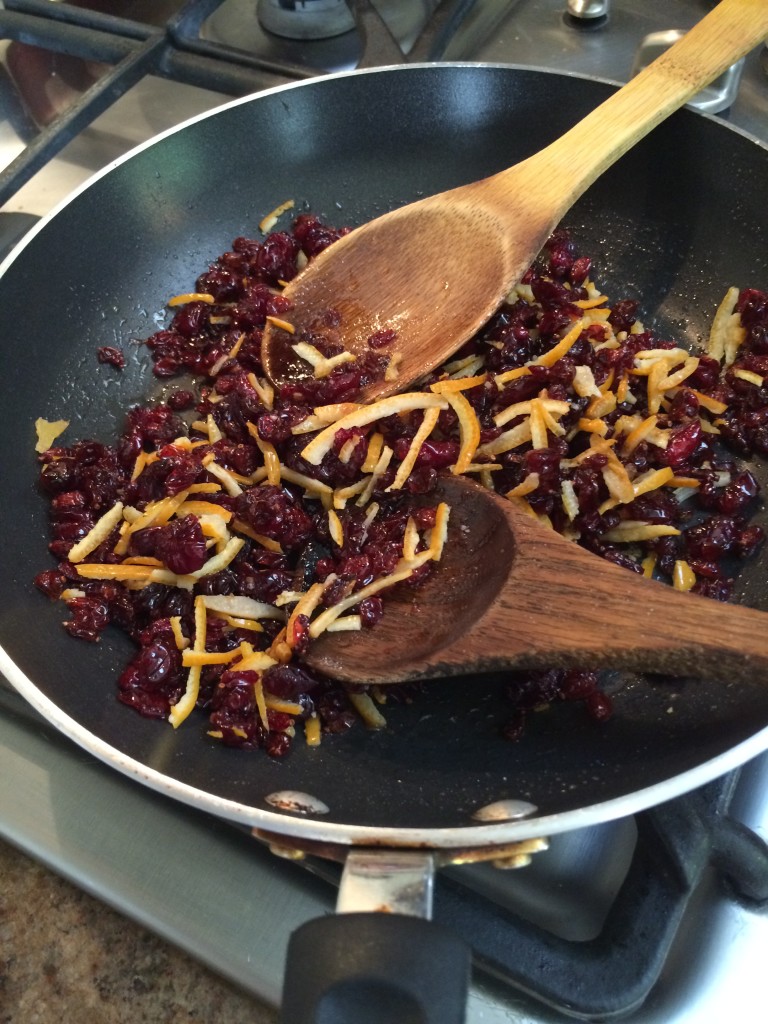 Next in the pan are slivered almonds.  Continue sauteing.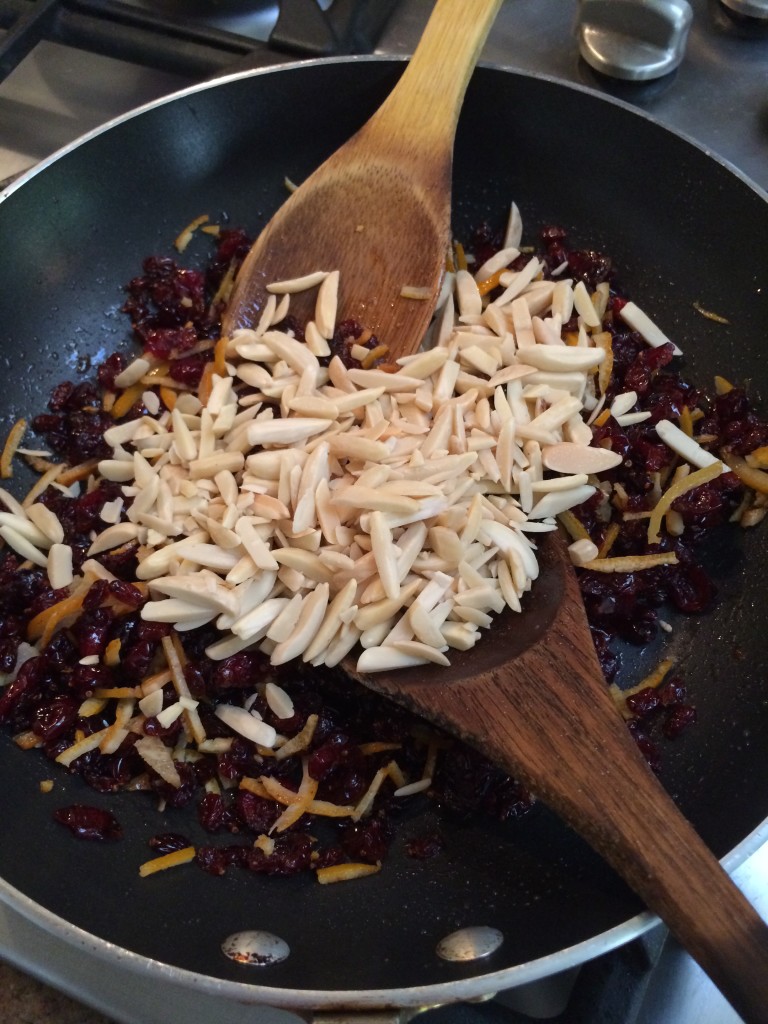 Then add in slivered pistachios.  Continue sauteing.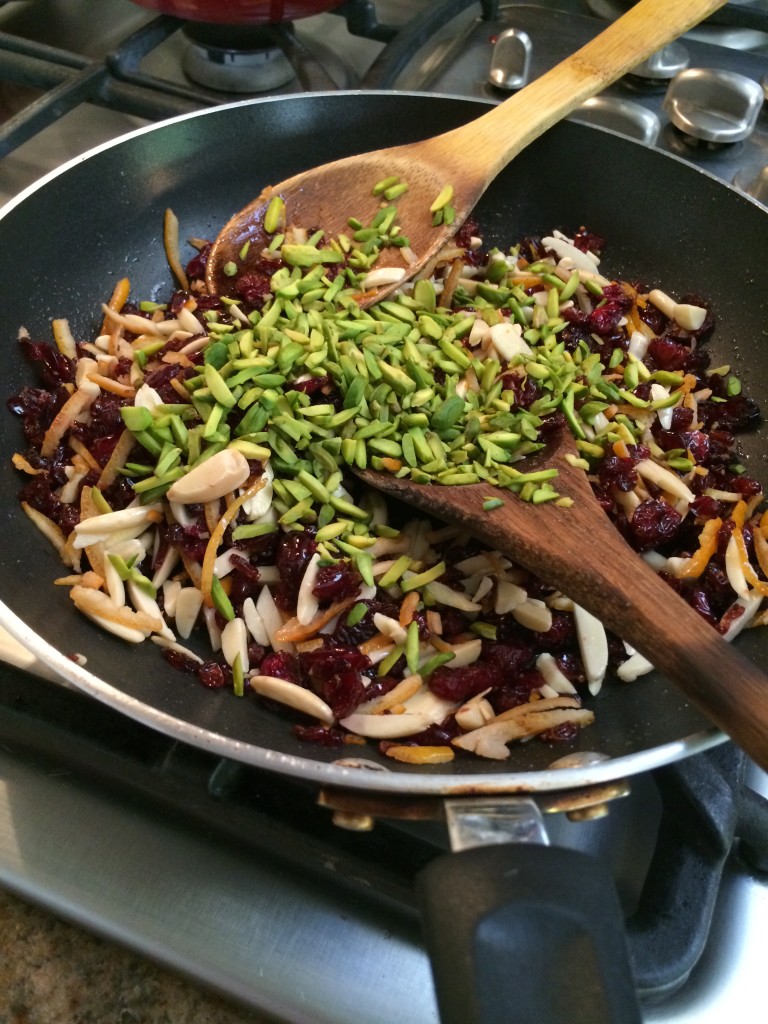 Finally add ground raw saffron.  For this step don't bloom the saffron in hot water as traditionally done in Persian cooking, as it would dye the almond slivers.  Persian households typically have a dedicated coffee grinder specifically reserved for saffron.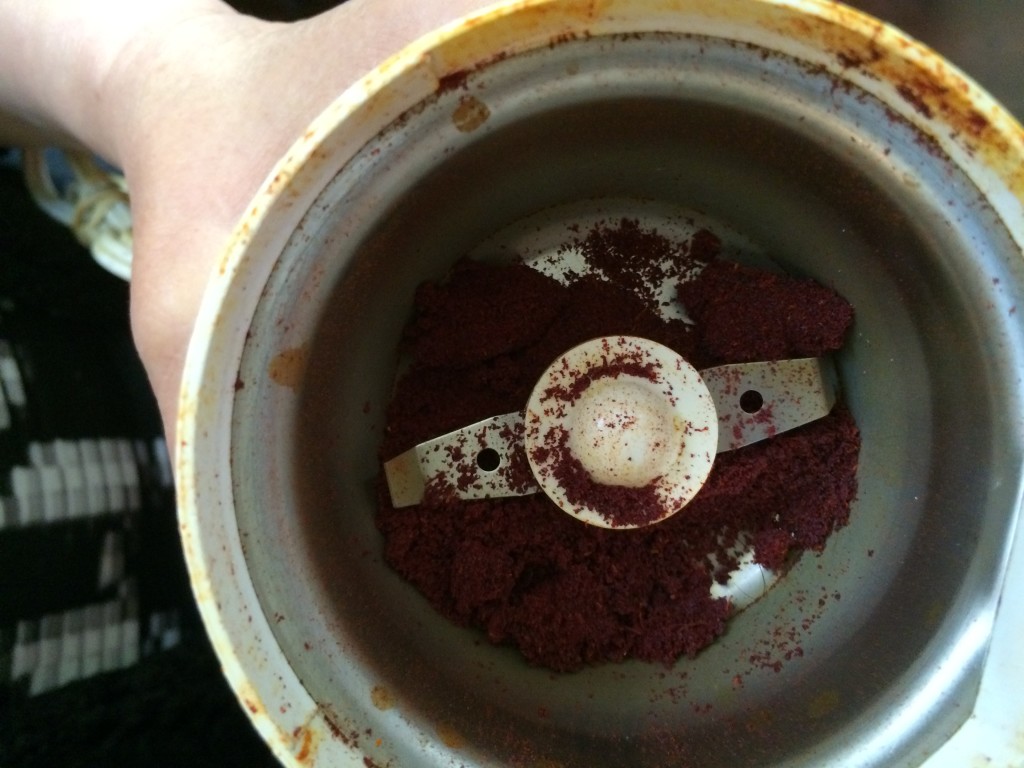 Turn off heat and set aside.  Remember to also reserve some of this nut and berry mixture for the final garnish as well.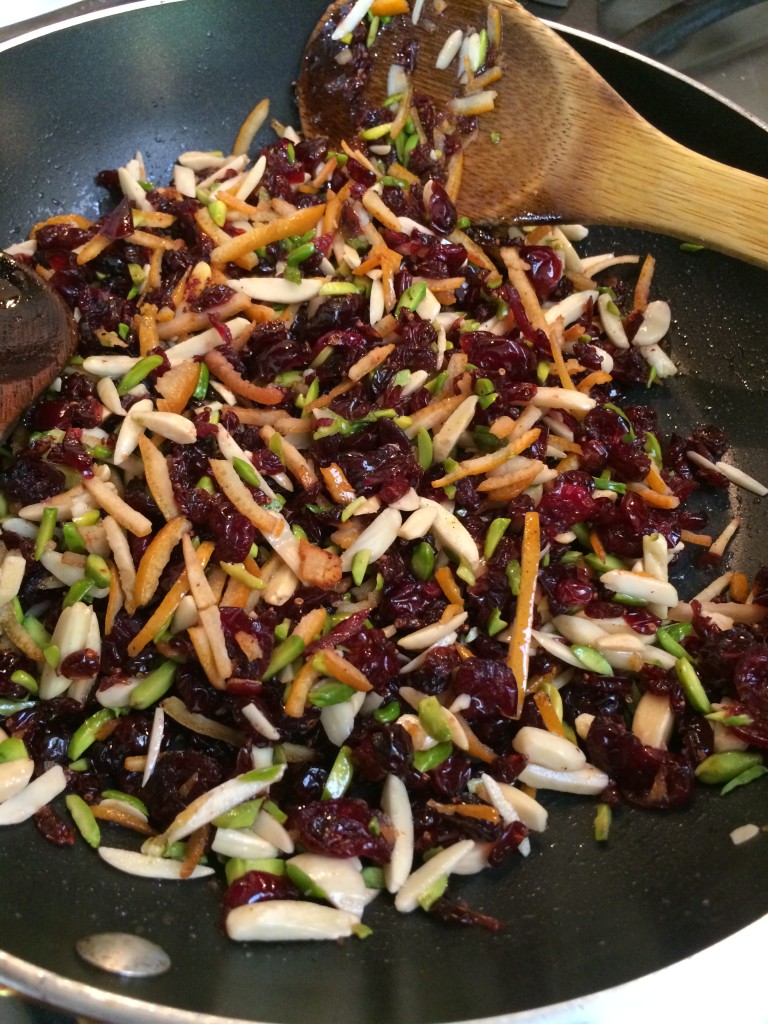 Next we get the rice ready for layering.  Drain off the rice that has been soaking overnight and place in a large pot.  Cover with water, and bring to a boil.  Boil for approximately 15 minutes or until the rice is close to al dente.  It shouldn't be fully cooked, but rather slightly hard/crunchy in the center.
Using a colander, carefully drain the water, rinse the rice with cool water, and allow to completely drain until ready to use.  You can even tilt the colander Persian style so you get every drop of water out.
Alright – now to really get layering!!  Prep a glass baking dish liberally coating all of the inside with oil. Pour some of the reserve marinade at the bottom of the pan, add some more bloomed saffron, and mix with some rice.  This will become the top layer once the casserole is flipped out.   Layer some of the marinated chicken on top of the rice, then layer a few tablespoons of the berry and nut mixture on top of that.
Then repeat!  Add a layer of rice, mix it with the reserve marinade. Layer the chicken, then berries and nuts, until the casserole dish is filled.  It's a good idea to press down on the layers to ensure a proper tacheen.
Top with a final layer of rice and make a few holes with the handle of a mixing spoon to allow for steam to rise.  End with the remaining marinade, and another douse of olive oil.
Fit with a tight foil covering and she's off to the oven!  Bake at 375 for approx 2 hours or until the rice at the bottom of the glass baking dish has turned into a golden brown tadeeg or crust.
Once the tacheen is out of the oven, allow to cool for a few minutes for easier removal – but don't wait too long or your tadeeg will get soft!  Very carefully flip the baking dish onto your serving platter of choice and cut into individual serving portions.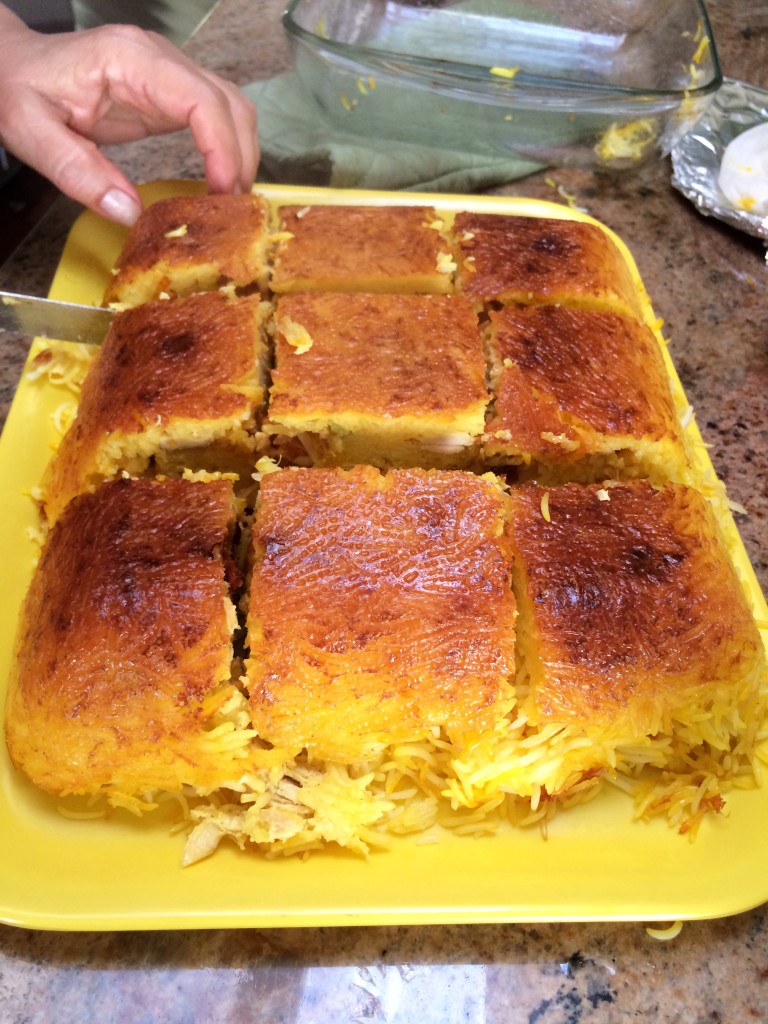 Garnish the top with the remaining nut and berry mixture and present with some herbs.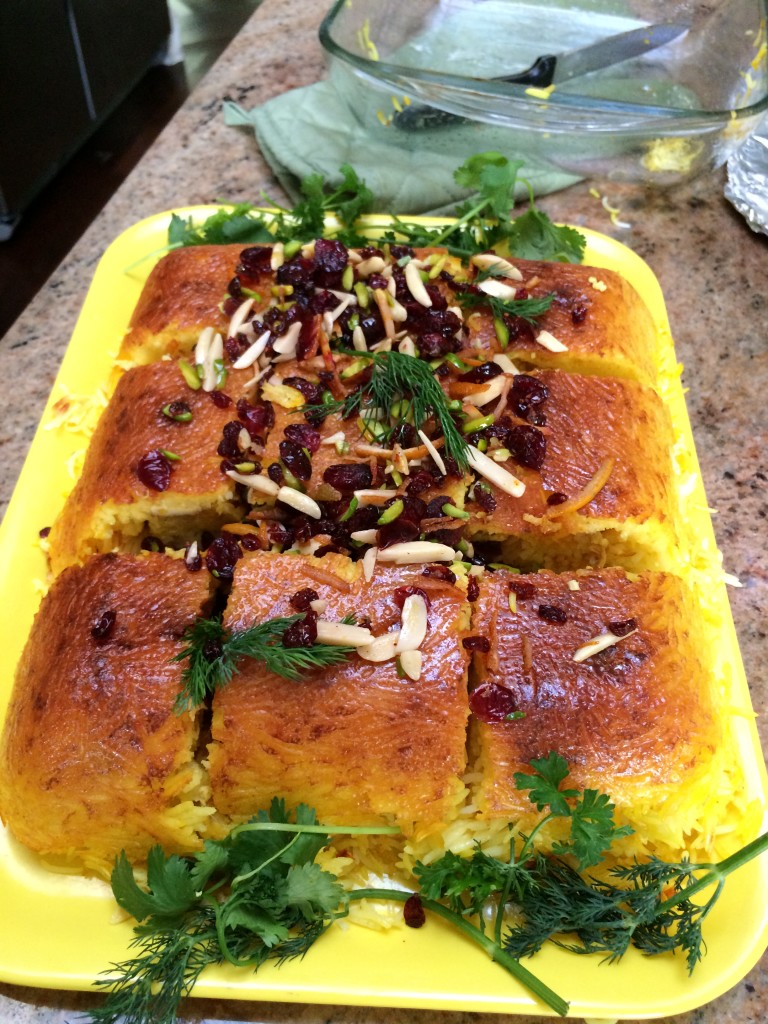 And viola!  A very special Persian entree that is always a crowd pleaser.  Thank you Giti Joon for sharing your recipe with me!
Here is Giti Joon teaching me how to make today's Tacheen.  Giti joon sneaks in a tacheen in almost all of her dinner parties.  It's definitely a crowd pleaser, both visually appealing and delicious!  Love you Giti joon!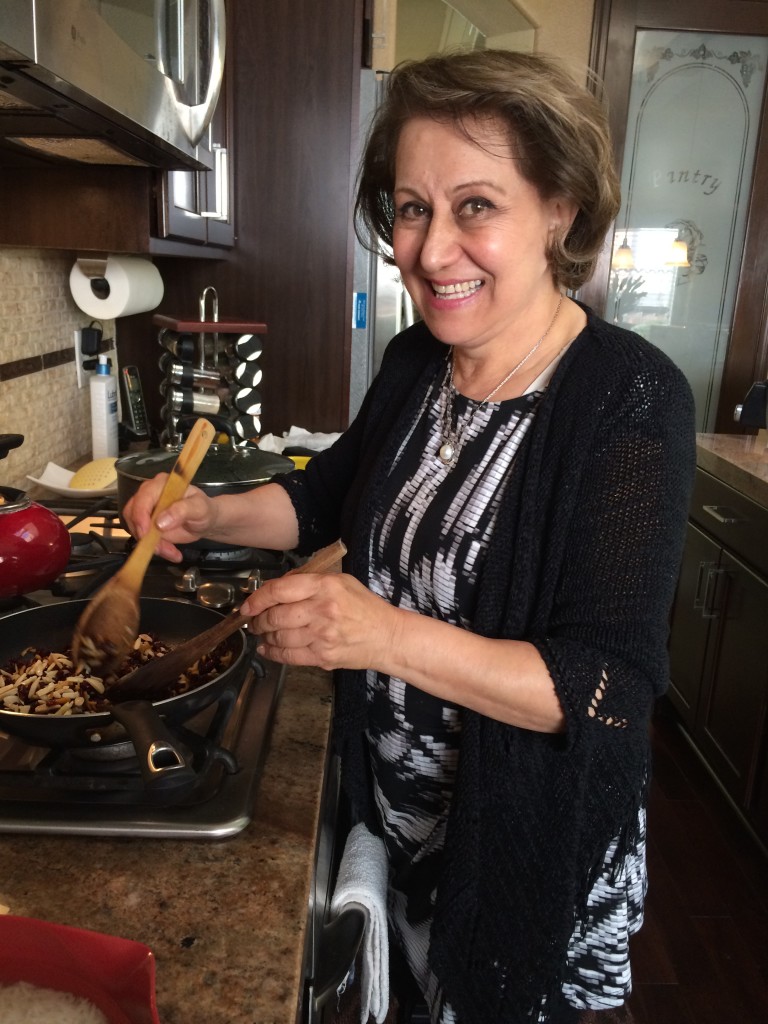 Ingredient List for Tacheen in a 9″x9″ glass Pyrex dish:
3 cups shredded cooked chicken breast
3 cups white long grain rice
Marinade:
2 cups yogurt
1/4 cup olive oil
1/8 teaspoon cumin powder
1 tablespoon fresh lemon juice
1/4 cup of bloomed saffron in hot water + 2-3 tablespoons more for assembling of tacheen
3 eggs
salt/pepper to taste
Nut and Berry Mixture:
2 tablespoons butter and 2 tablespoons olive oil
1/2 cup zereshk
2-3 tablespoons sugar
1/2 cup dried cranberries
1/4 cup candied julienne orange peel
1/4 cup slivered almonds
1/4 cup slivered pistachios
1/8 teaspoon raw ground saffron