In case you haven't noticed, I'm a big fan of lamb.  I love it stewed, grilled, rolled into meatballs, braised on the shank, roasted on the leg, slow cooked with a bone in the shoulder, I love it all.  One of my favorite ways is seared on the chop, which I write about in another lamb post here: http://beatseats.com/grilled-lamb-chops-with-chimichurri-dressing/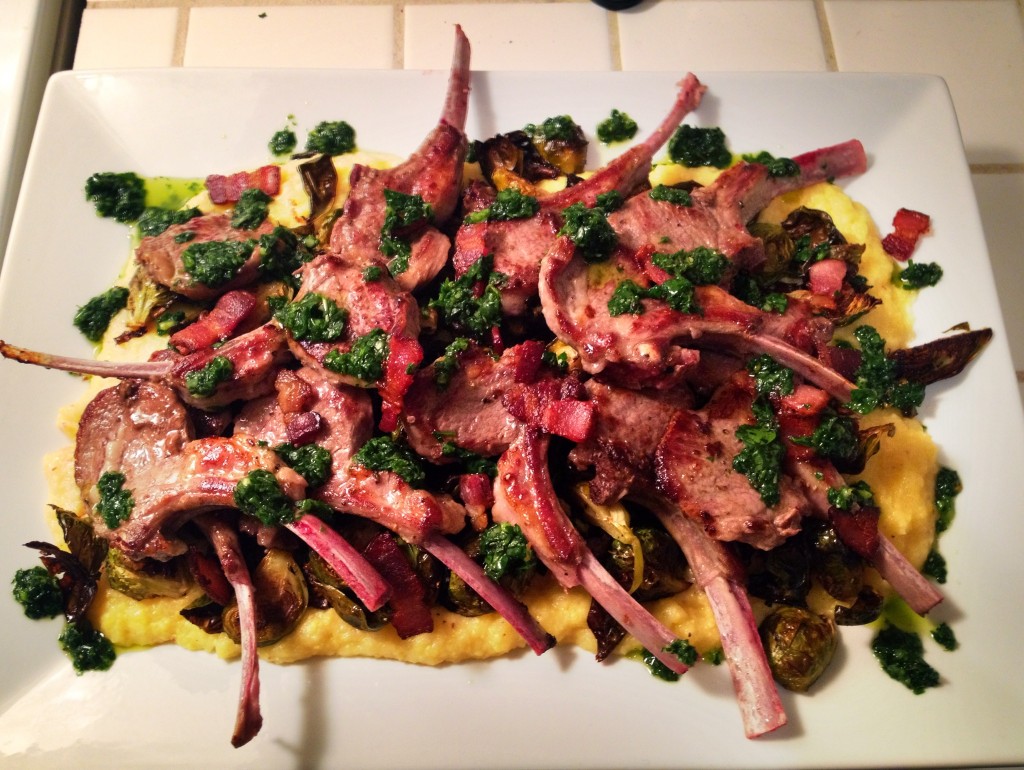 To my delight, my close (and pregnant) friend was craving a batch so I figured I might as well share step-by-steps instructions in case she (or you) would like to try to make a Lamb Chop Dinner at home sometime!
This meal will definitely wow your friends (and really yourself when you realize how easy it is!).  Enjoy and let me know if you want to ever try the recipe out on anyone 🙂
Grilled Lamb Chops served on a bed of parmesan polenta, bacon roasted Brussels sprouts, garnished with homemade chimichurri sauce.    Yes please!!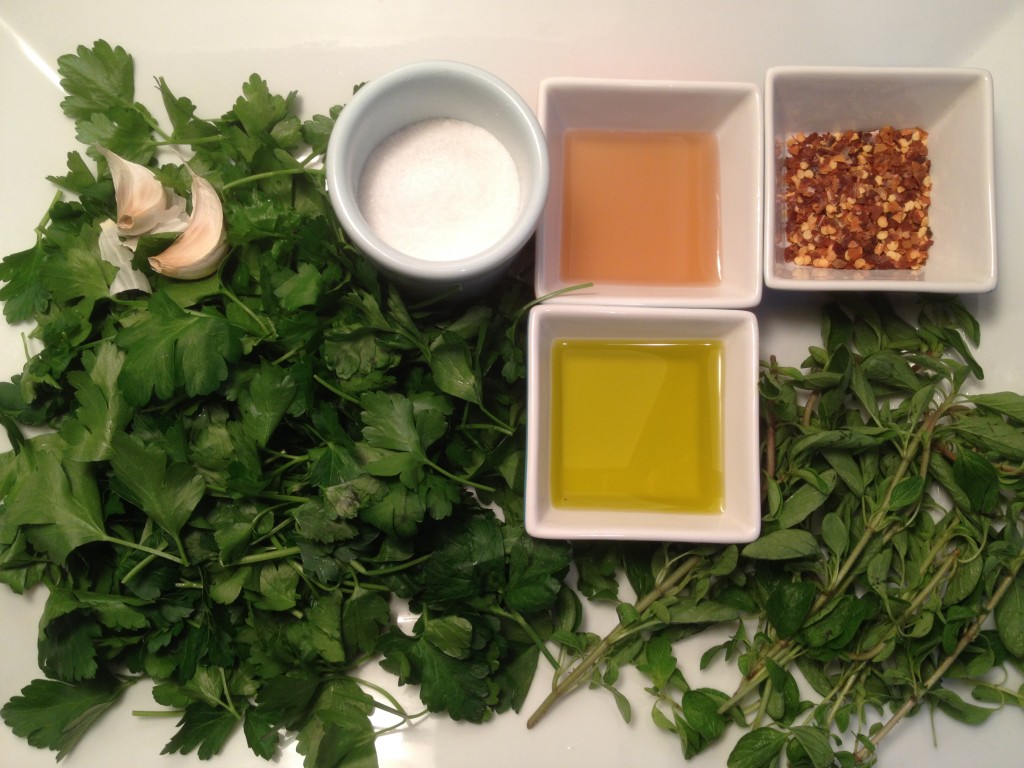 First off, get the chimichurri sauce going so the flavors have a chance to meld together while the rest of the food cooks.  I used a mix of parsley, oregano, and thyme but I usually throw in a hearty bunch of cilantro as well.  You can customize based on your personal preferences.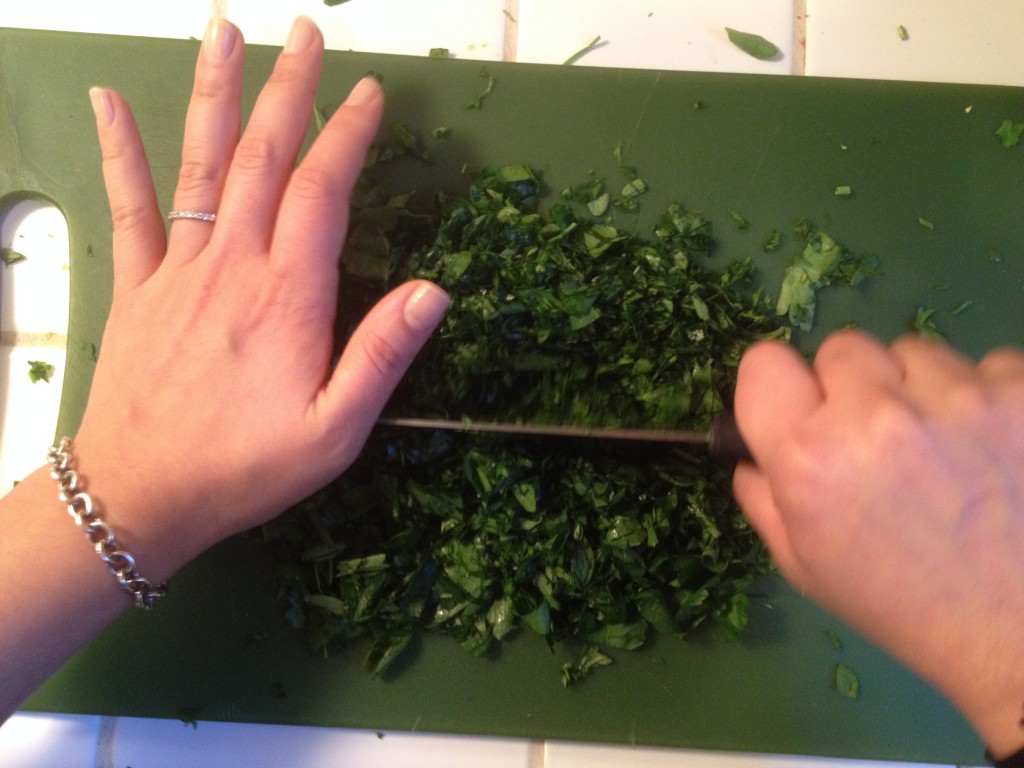 You can chop the herbs either in a food processor/blender or do it by hand.  I find that when I do it by hand the green color of the herbs stays more vibrant than pureeing in a processor.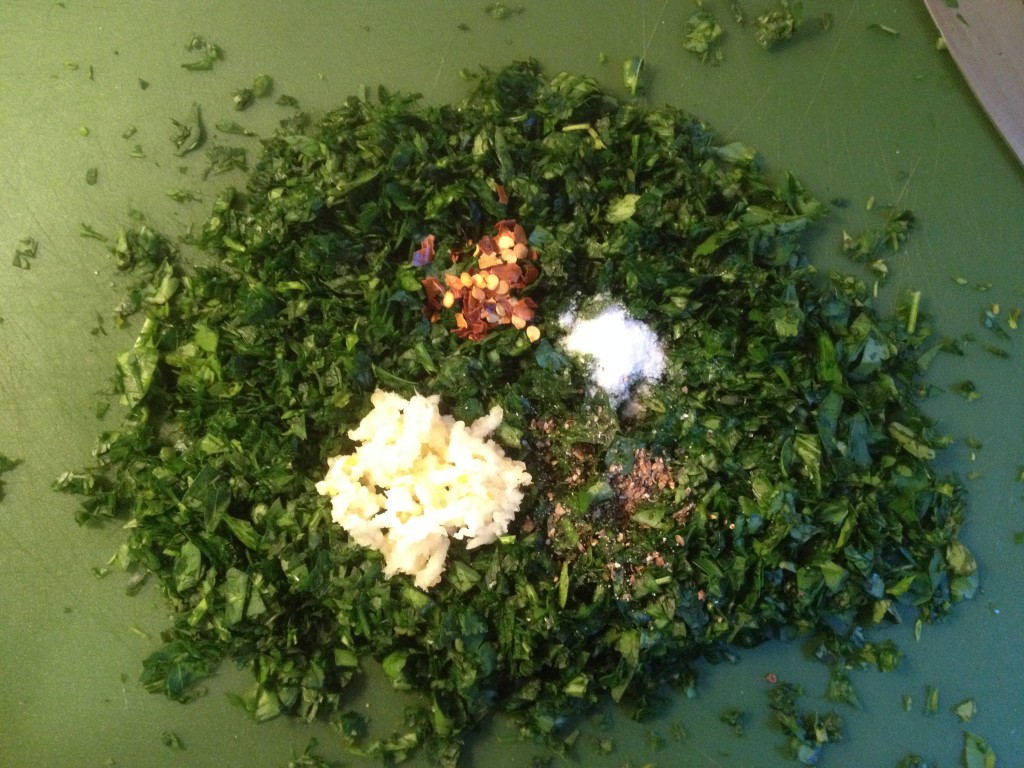 Once finely minced, I chop in dried red pepper, black pepper, salt, and a few cloves of garlic.  Caution here – the garlic remains raw so a little bit goes a long way.  If you don't want a strong garlic taste, limit to just one clove.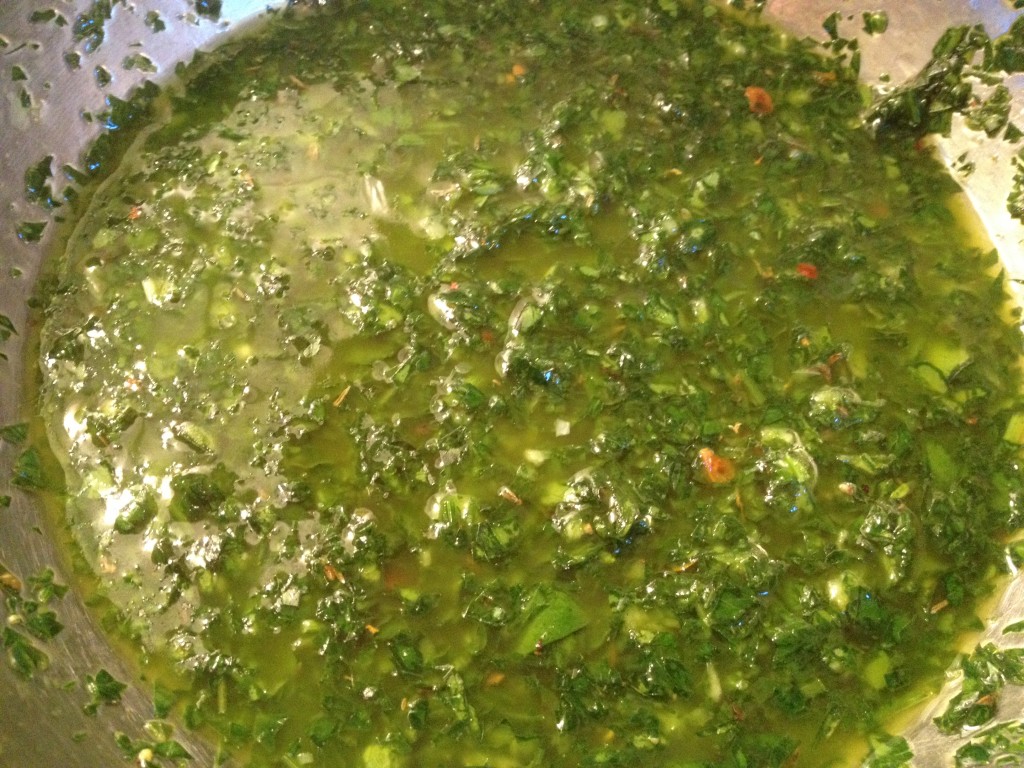 Once all combined, add a splash (1-2 teaspoons) of vinegar.  You can use either apple cider or white wine, or any other mild vinegar here.  Then whisk in about 1/3 cup of olive oil.  This again is personal preference – add more for a smoother consistency, add less for a more rustic topping.  Go ahead and cover and leave in the fridge until ready to serve.  You'll want to keep any leftovers of the chimichurri sauce to use the next day – over eggs, in a sandwich, as a salad dressing, in a shot glass – up to you, this stuff is delicious!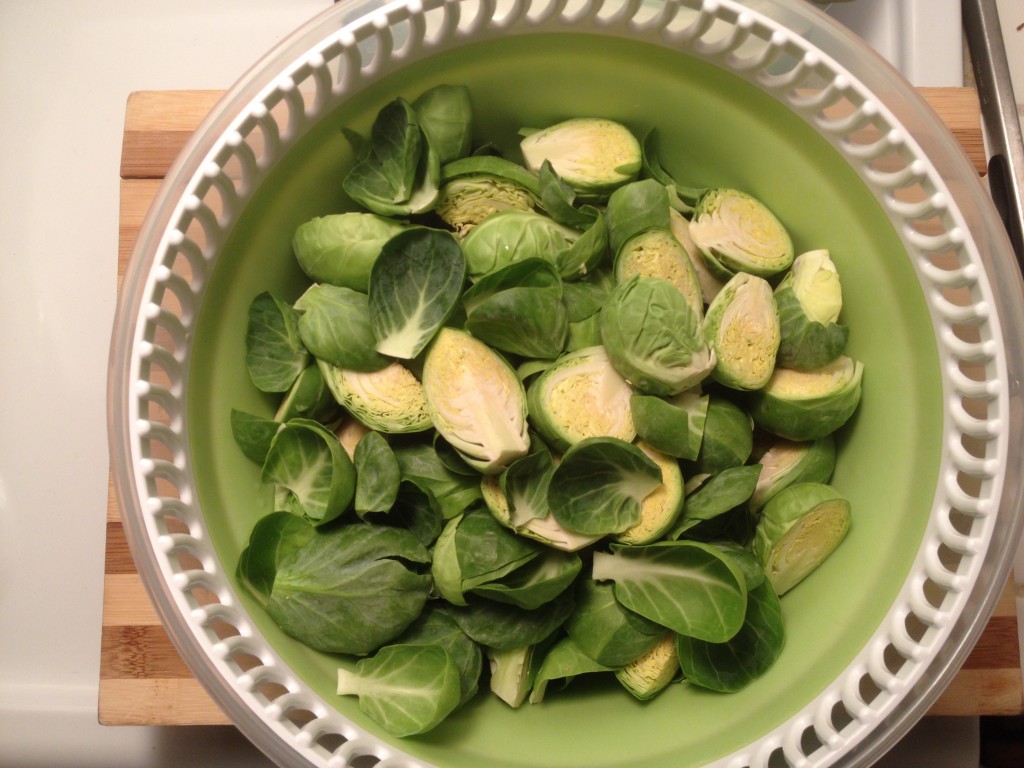 Next up, roasted Brussels sprouts with bacon.  This is one of my favorite techniques to make Brussels sprouts.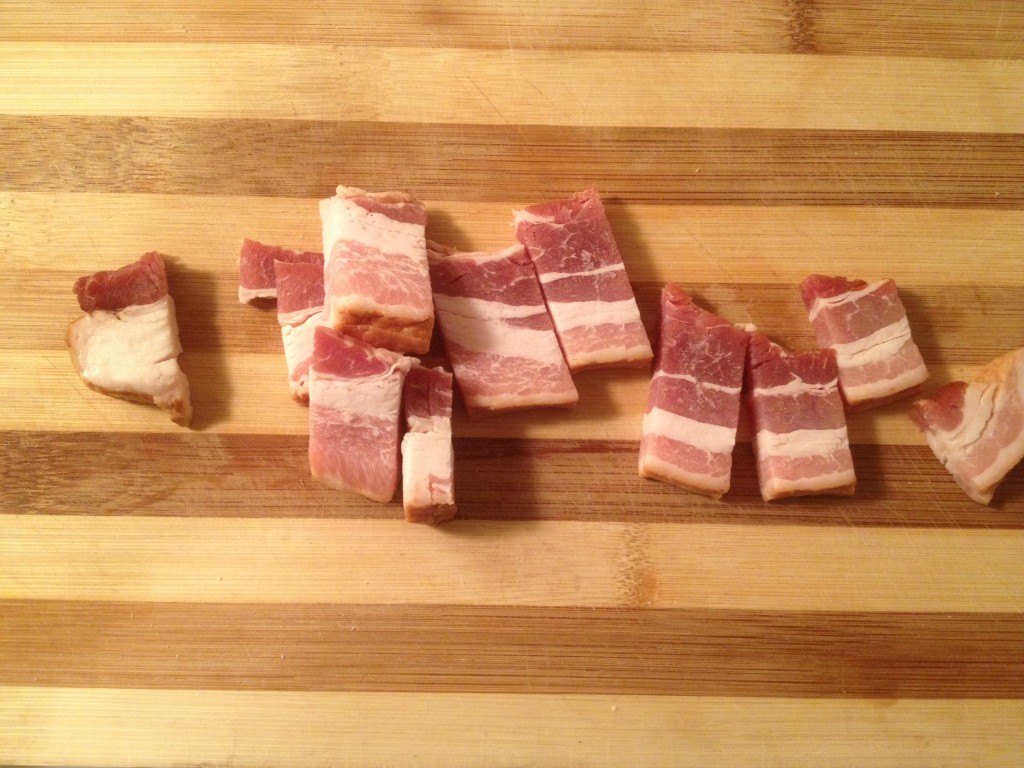 Render bacon lardons (thick pieces) for 10 minutes in the oven at 400 degrees and set aside.  Toss the fat with the halved or quartered Brussels sprouts and bake for about 30 minutes or until they are the doneness you prefer.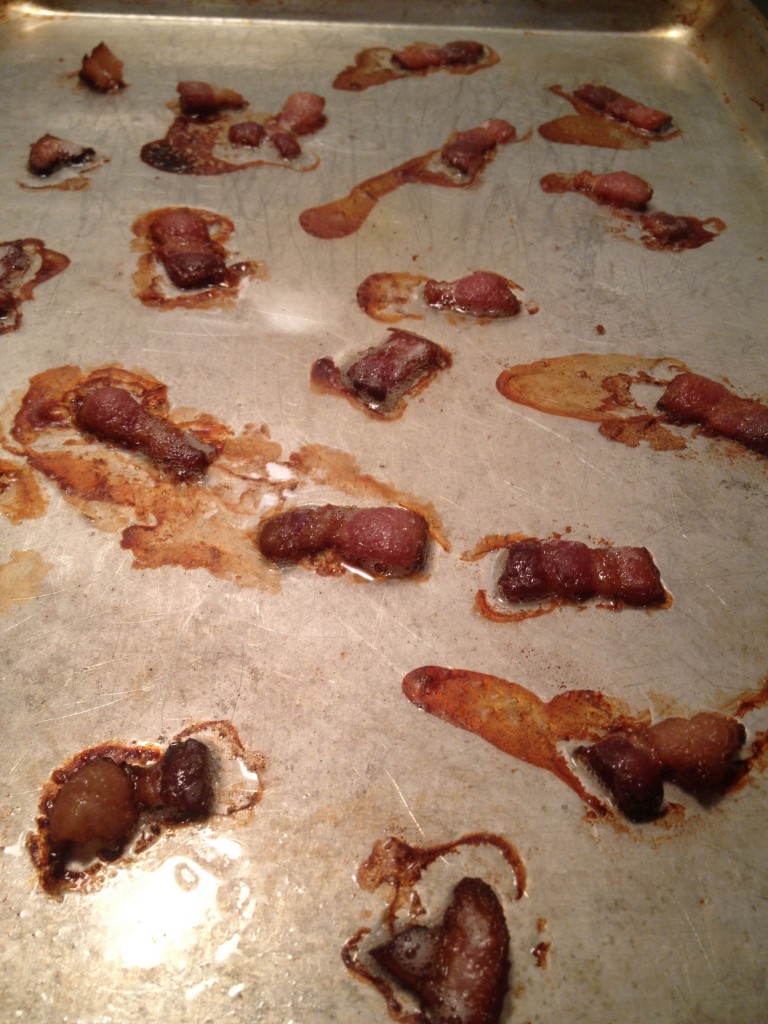 Garnish with the bacon when they have finished cooking.  If you don't want to use bacon, just go ahead toss with olive oil instead.  Salt and pepper away!
While the Brussels are cooking, you can prep the polenta.  I've recently been using prepared polenta which makes life that much easier.  Use a potato masher and mash up the polenta in a medium pot.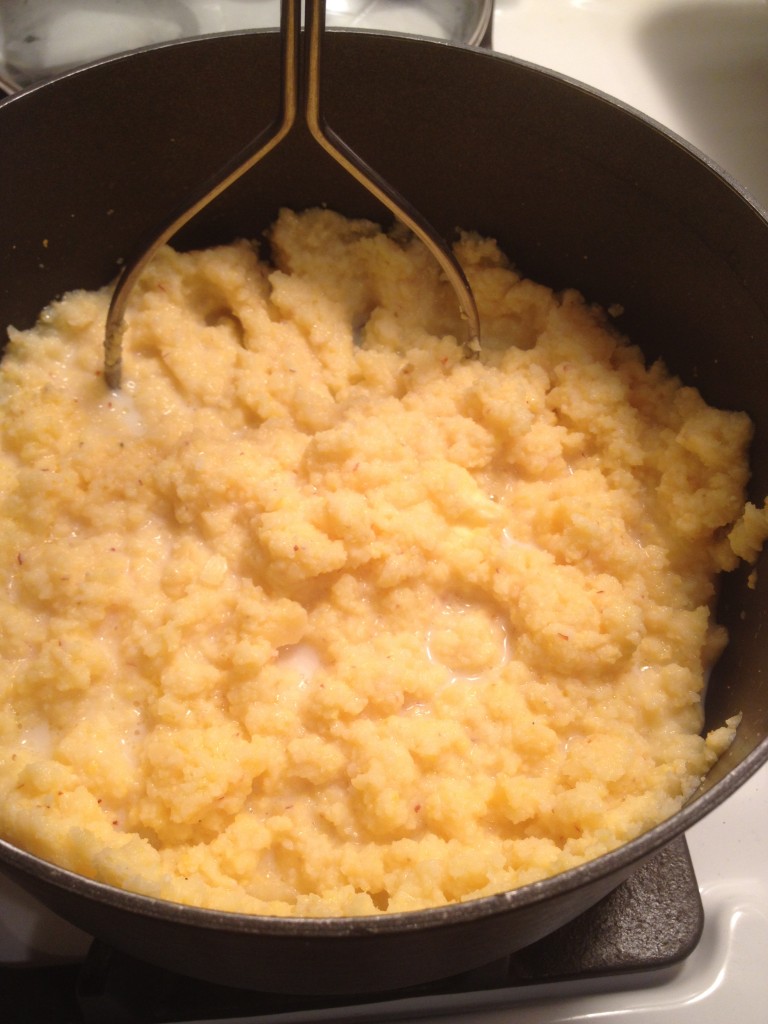 Add about ½ cup of milk and ½ cup of water or broth, and a few tablespoons of butter or oil.  Just allow the polenta to simmer away and get to a creamy consistency.  Careful the polenta doesn't burn on the bottom or you'll have little specs of burnt polenta swimming throughout (I speak from experience!).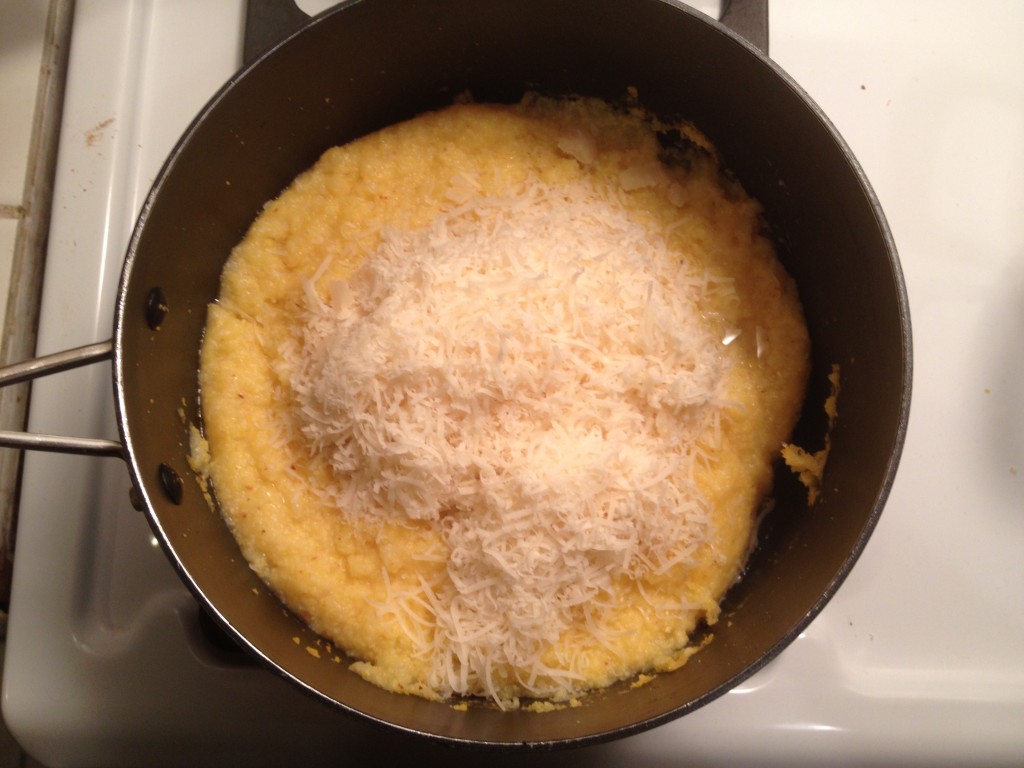 A few minutes before serving, add in about ½ cup of grated parmesan, or your favorite cheese.  I personally like it with goat cheese as well!
And now for the lamb.  If you've never bought or prepared lamb, don't be scared.  It really is so easy you'll be a big fan immediately!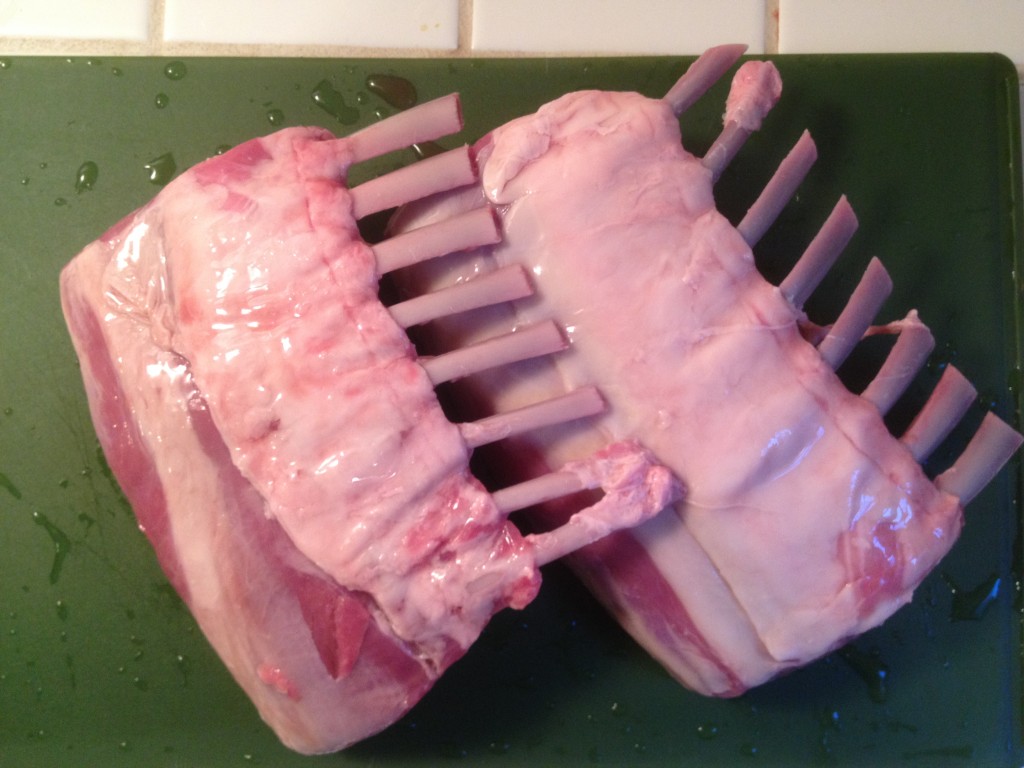 I used 2 racks, but you can always buy them already cut into chops from the meat counter if you prefer.  Rinse and dry the racks and slice off any excessive pieces of fat.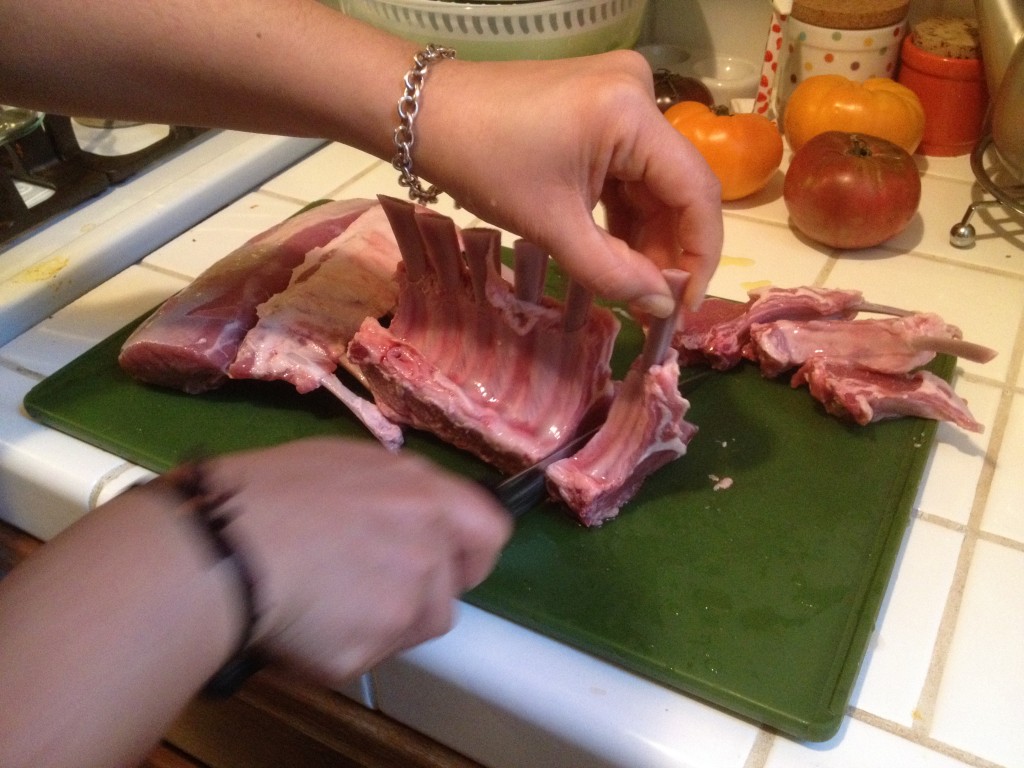 Then with a very sharp knife, carefully slice in between the bones.  Aim to have the chops in approximately the same thickness if you can.  Season with salt and pepper and then grill directly on a hot pan with a little oil.  Once the meat gets a nice char on it (about 2 minutes) flip them over to grill the other side.  And that's it!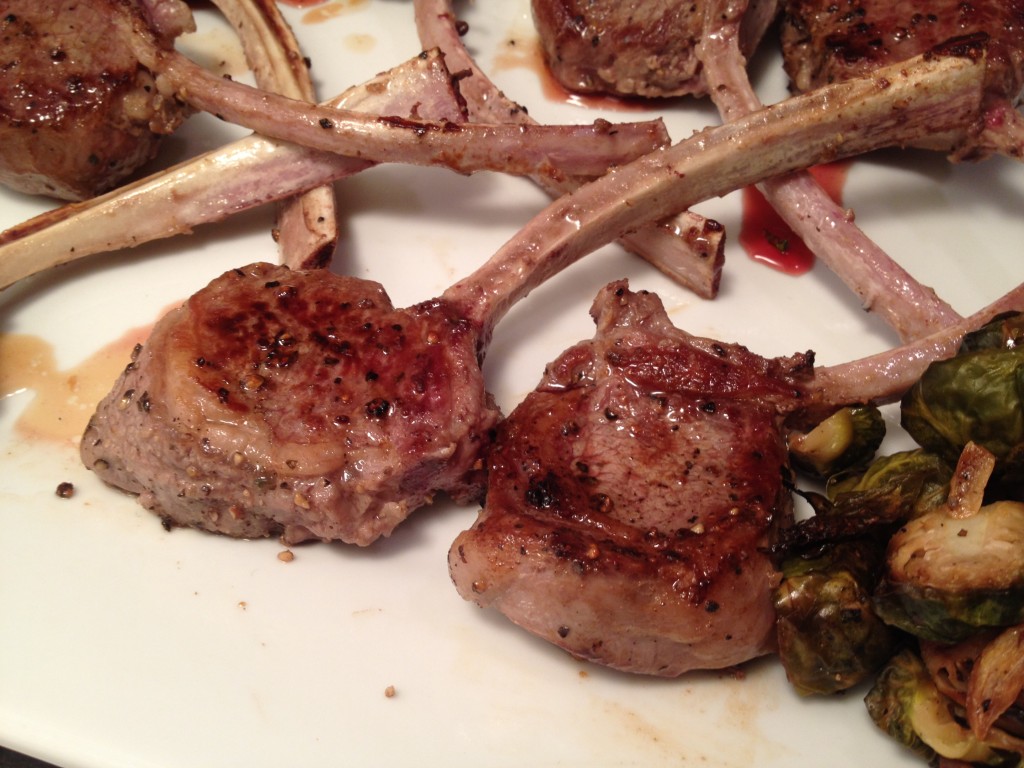 I love plating the meal family style in a platter.  First, spread the polenta in the bottom of your favorite serving dish.  Then layer the roasted brussel sprouts on top.  Top with the lamb chops, and finish with dollops of the chimichurri sauce.  I like to have the extra chimichurri sauce at the table so guests can help themselves to more.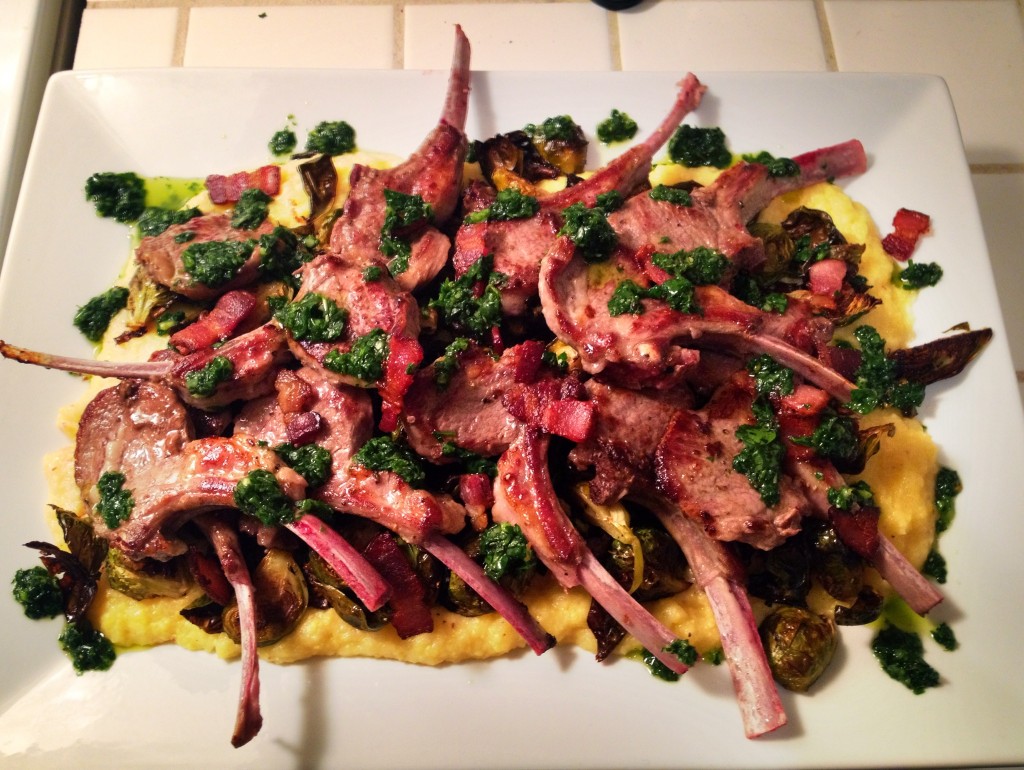 This is one of my most favorite meals and I hope you enjoy it as much as I do!
Bon Apetit!