Lubia Polo for the Persian New Year Sezdeh be Dar Picnic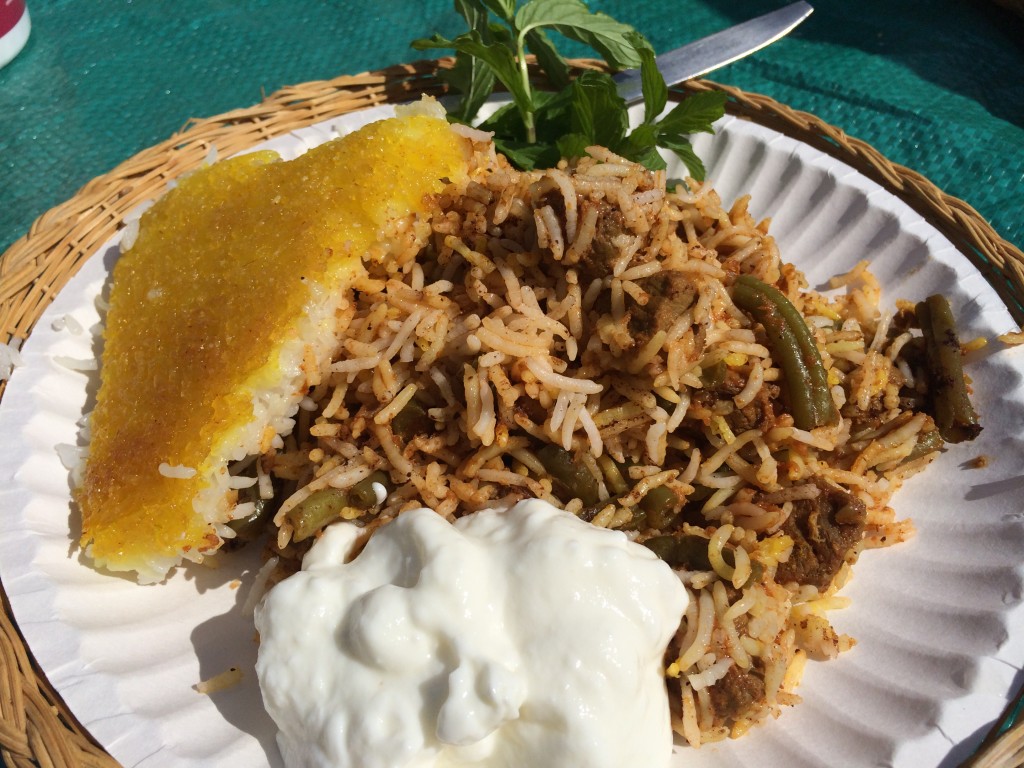 As many of you know – The Persian New Year is celebrated for the first 13 days of Spring. On the 13 day – it's tradition to get outdoors and spend time with family and friends. The day is called Sezdeh-Be-Dar meaning: Out-the-door on the 13th! I always love the excuse to have a picnic and this is no exception! I have fond memories of my mom making a pot of her famous Lubia Polo (spiced green bean and beef rice), wrapping it up in a big kitchen towel, and heading out either to an organized Persian picnic, like at McNears Beach in Marin or a big park in San Jose, or even the Civic Center lake in my parent's backyard.
In these outings, several families attend, each bringing something to eat with plenty extra to share with any neighboring picnickers. Foods typically include Persian noodle soup, BBQ kebabs, nuts and seeds, and at the very least, everyone has hot tea and sweets.
This year – I took the lead on making the Lubia Polo. It's one of my favorite dishes and I always eat it with a big dollop of plain yogurt. It's actually a dish I enjoy during Thanksgiving as well, merging American and Persian recipes.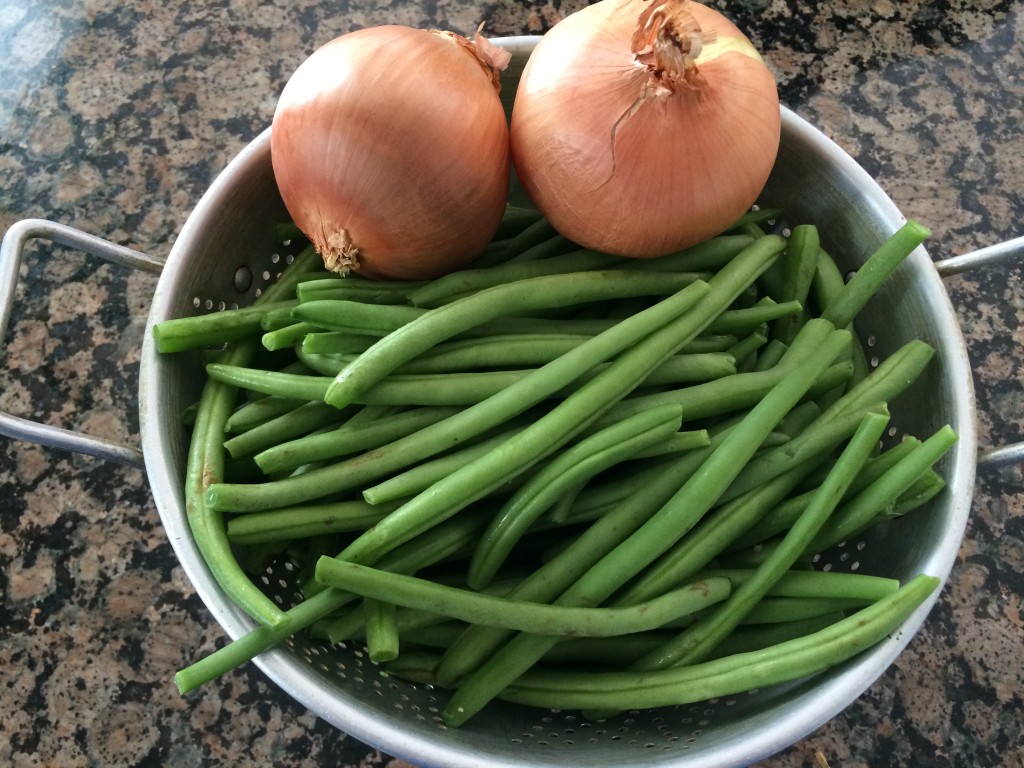 Lubia Polo – Spiced Green Bean and Beef Rice
First off start by sautéing 1 large onion diced into about ½ inch pieces. Cook on medium heat – you don't want to char the onions but rather cook them evenly.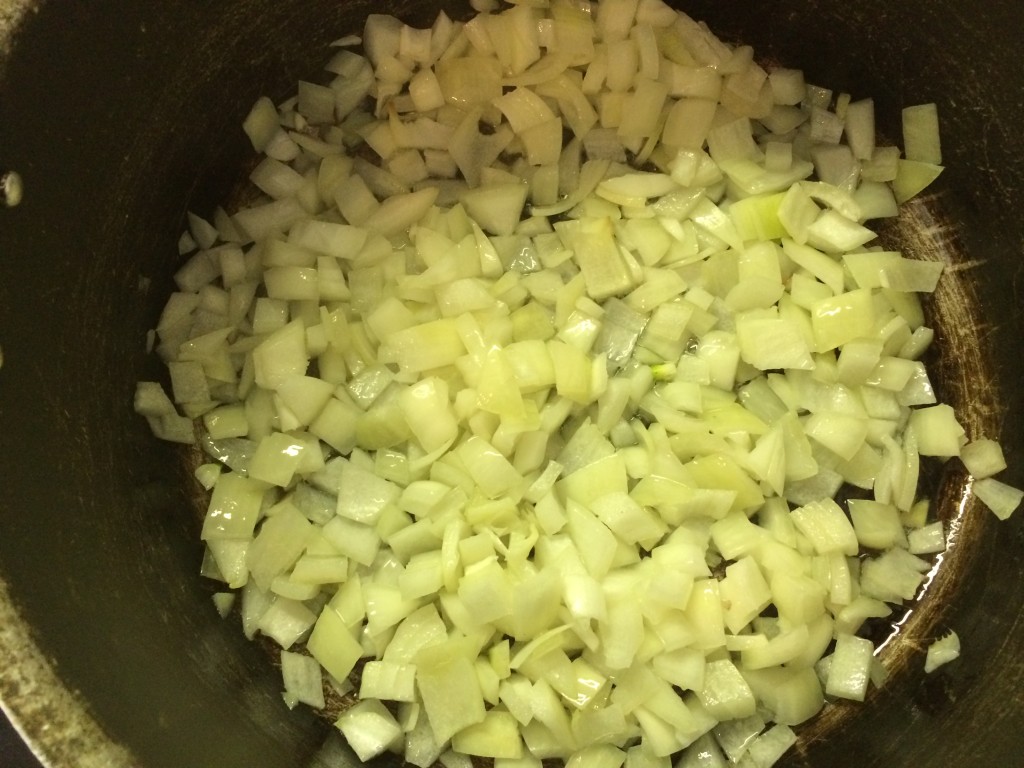 While the onion cooks, prep the beef. I used a big steak of beef chuck, and cut it into 1 inch pieces.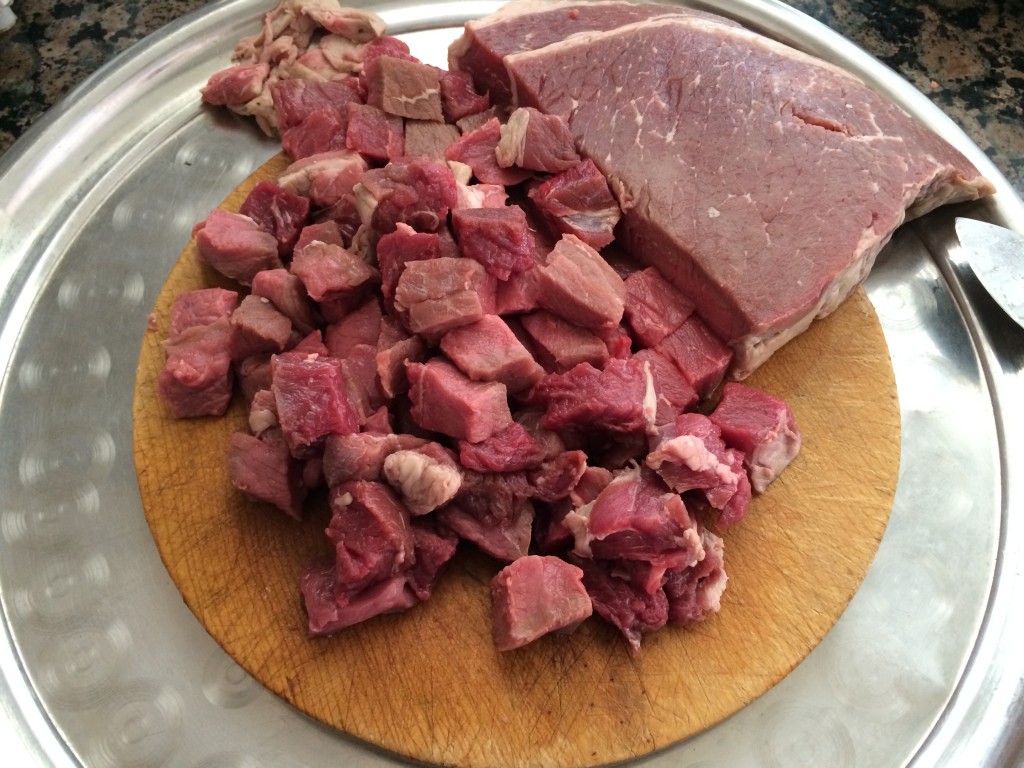 Once the onions start turning golden in color, add to it about 2 teaspoons of turmeric. Cook a few minutes extra and then add in the beef.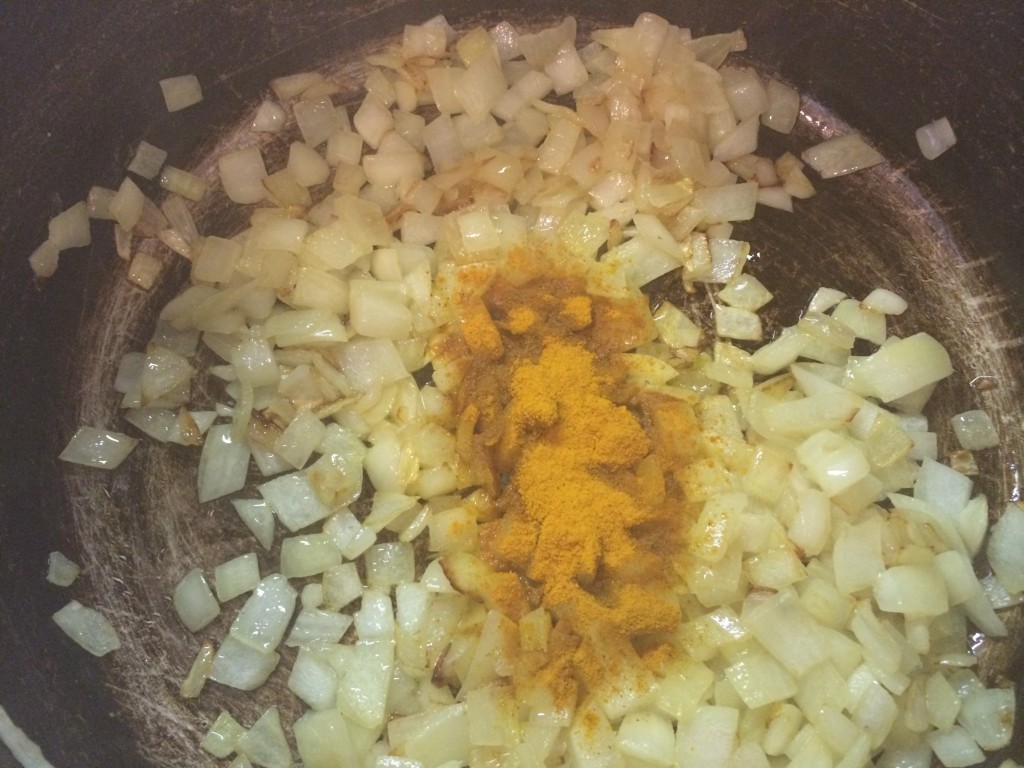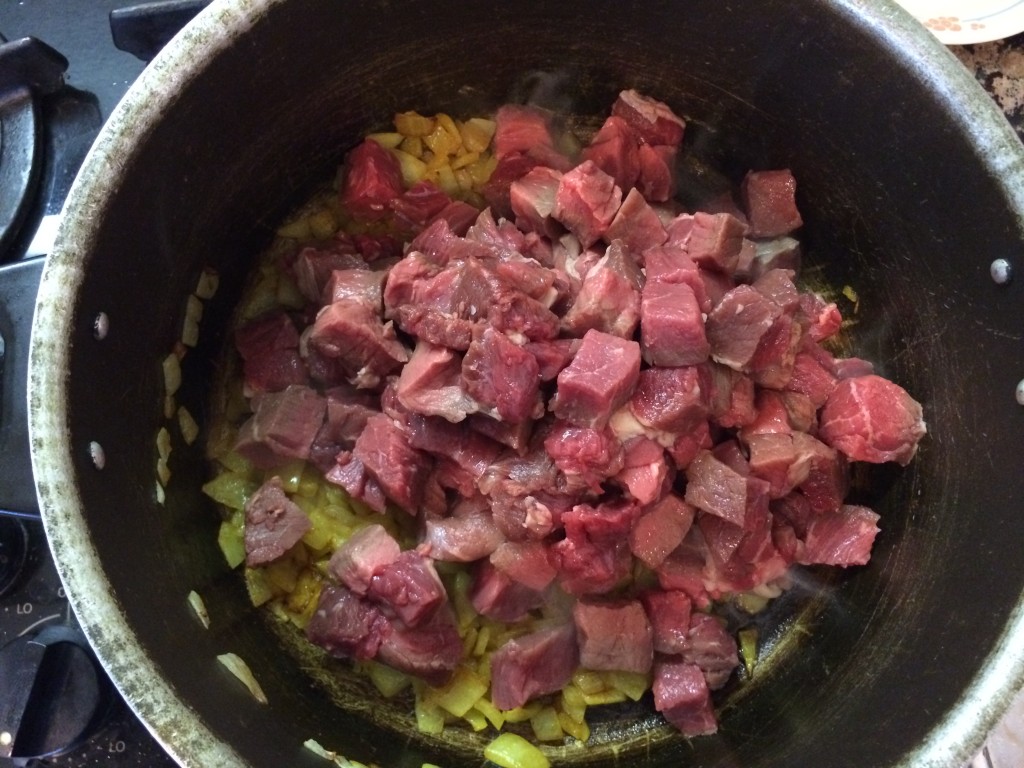 Turn the heat up a little bit to medium high, and sauté the beef with the onions for about 15 minutes until the pieces are browned on all sides. Add about 2 cups of water, cover, and continue to cook as you move to the next steps of the recipe.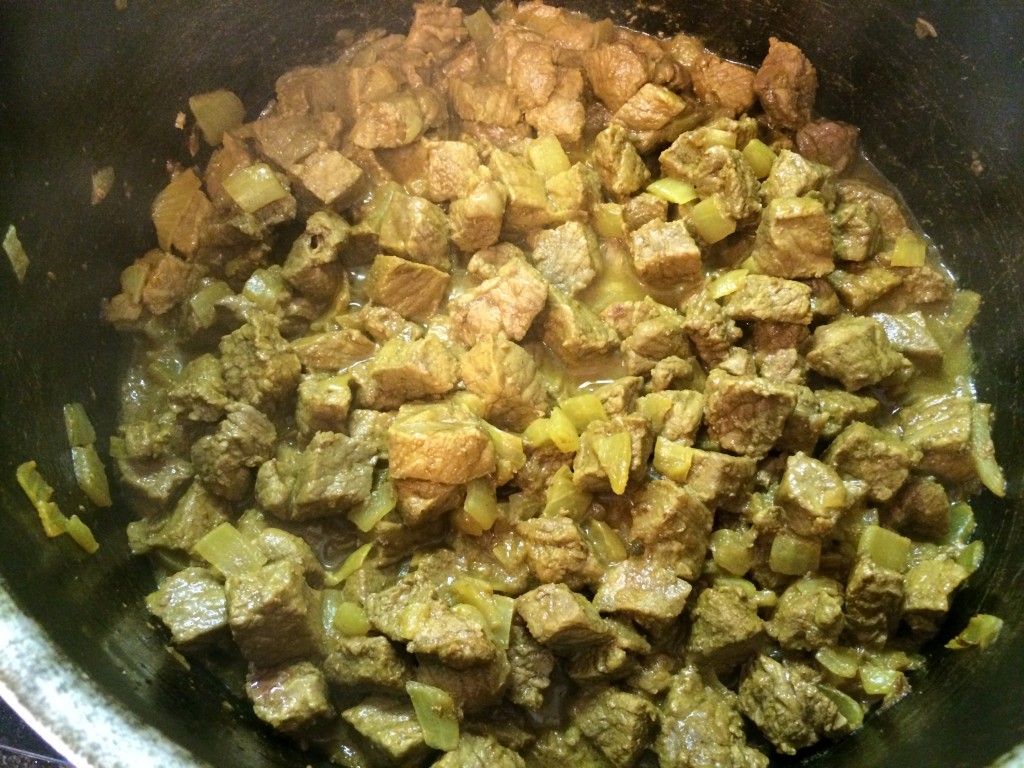 Next up are the green beans – wash and prep the green beans by cutting off both ends off and chopping them into about 1 inch (or smaller) pieces.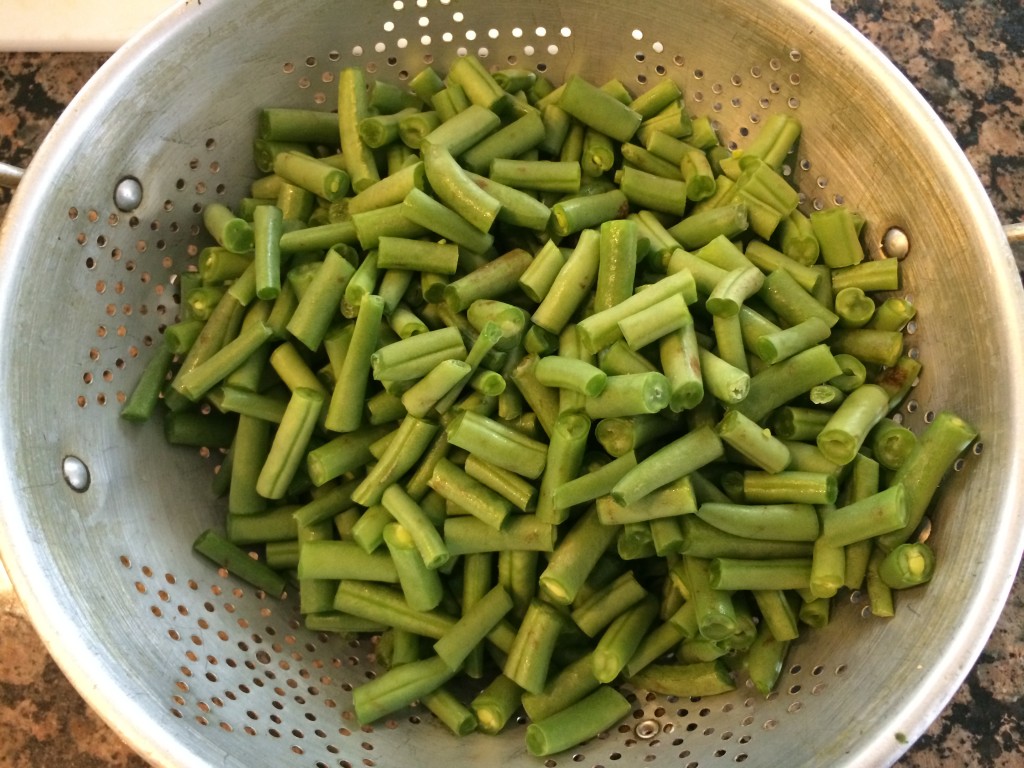 Fry the green beans in 2-3 tablespoons of oil, covered, for about 25 minutes, stirring every few minutes, until they are softened and cooked through. Set aside.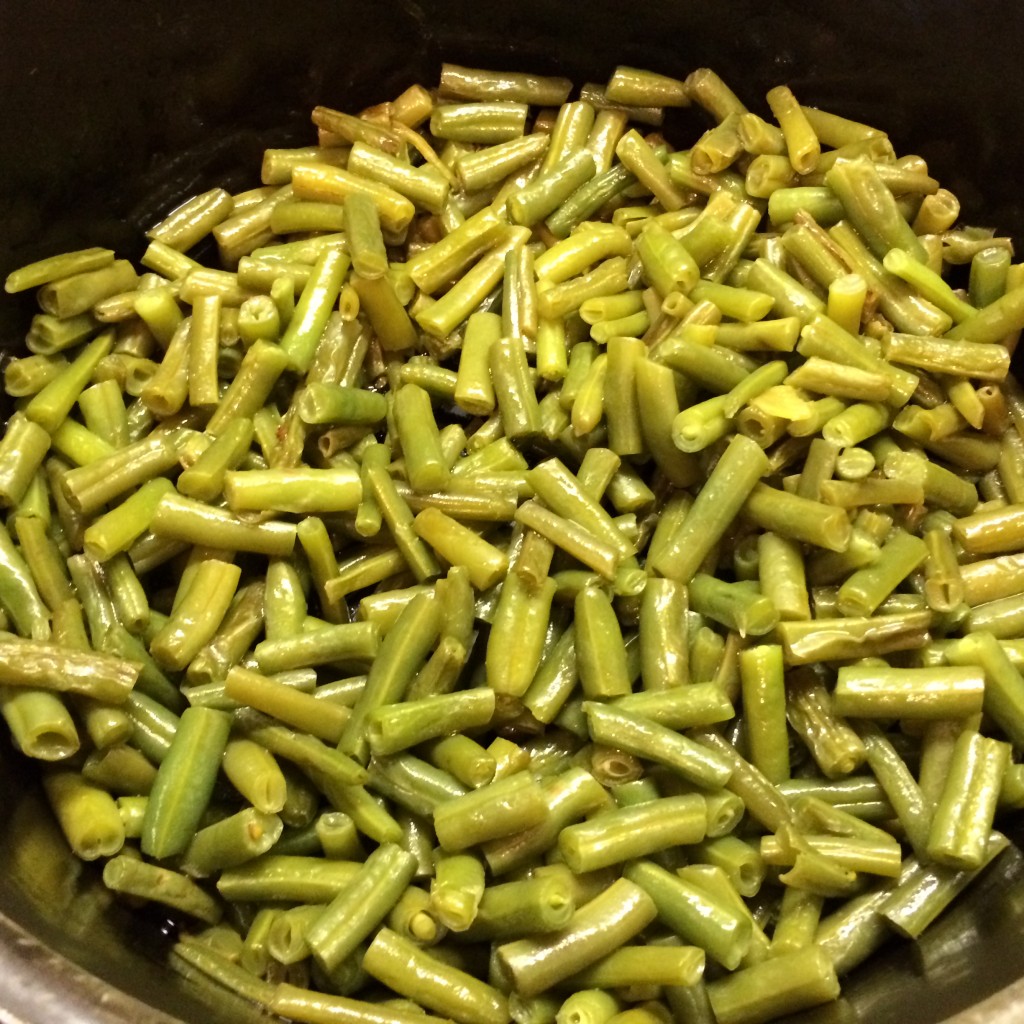 Once the meat is mostly tender, add about 5 heaping tablespoons of tomato paste to the pot.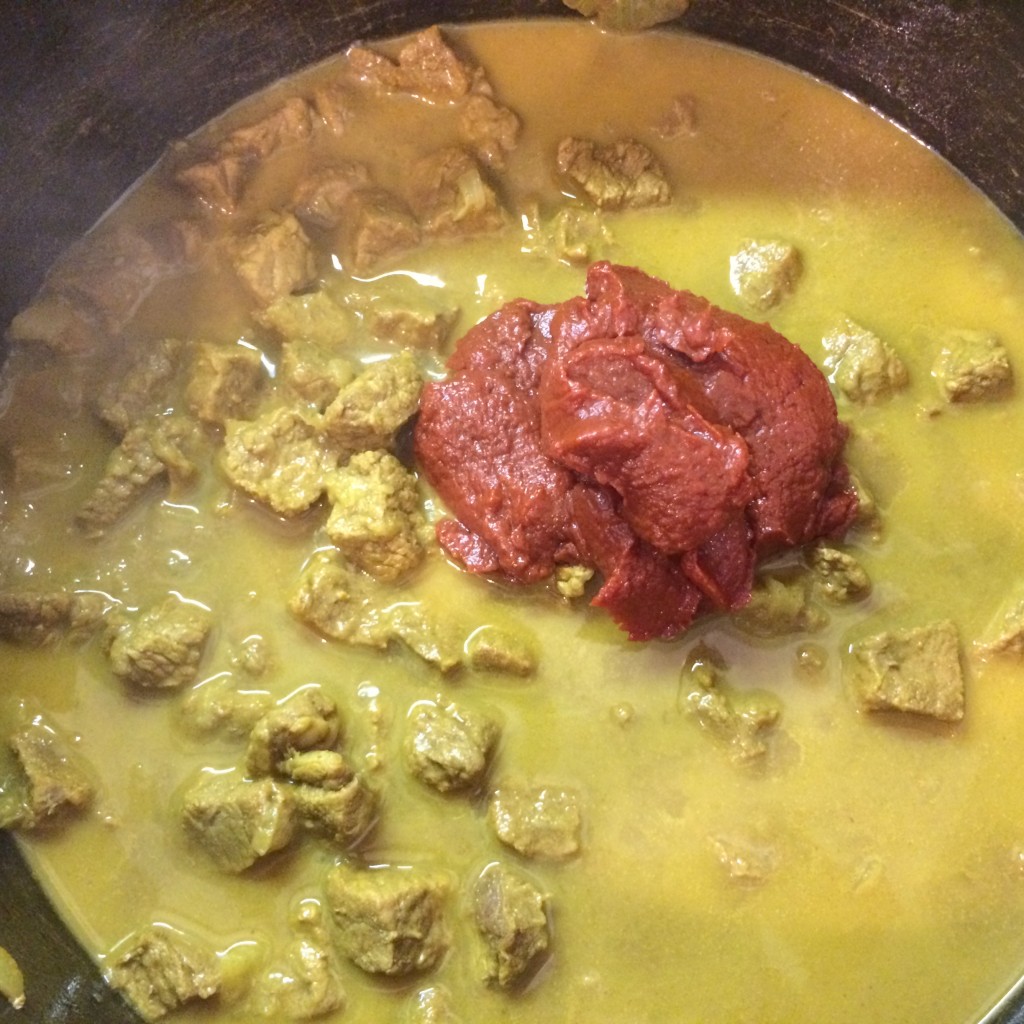 Stir to combine.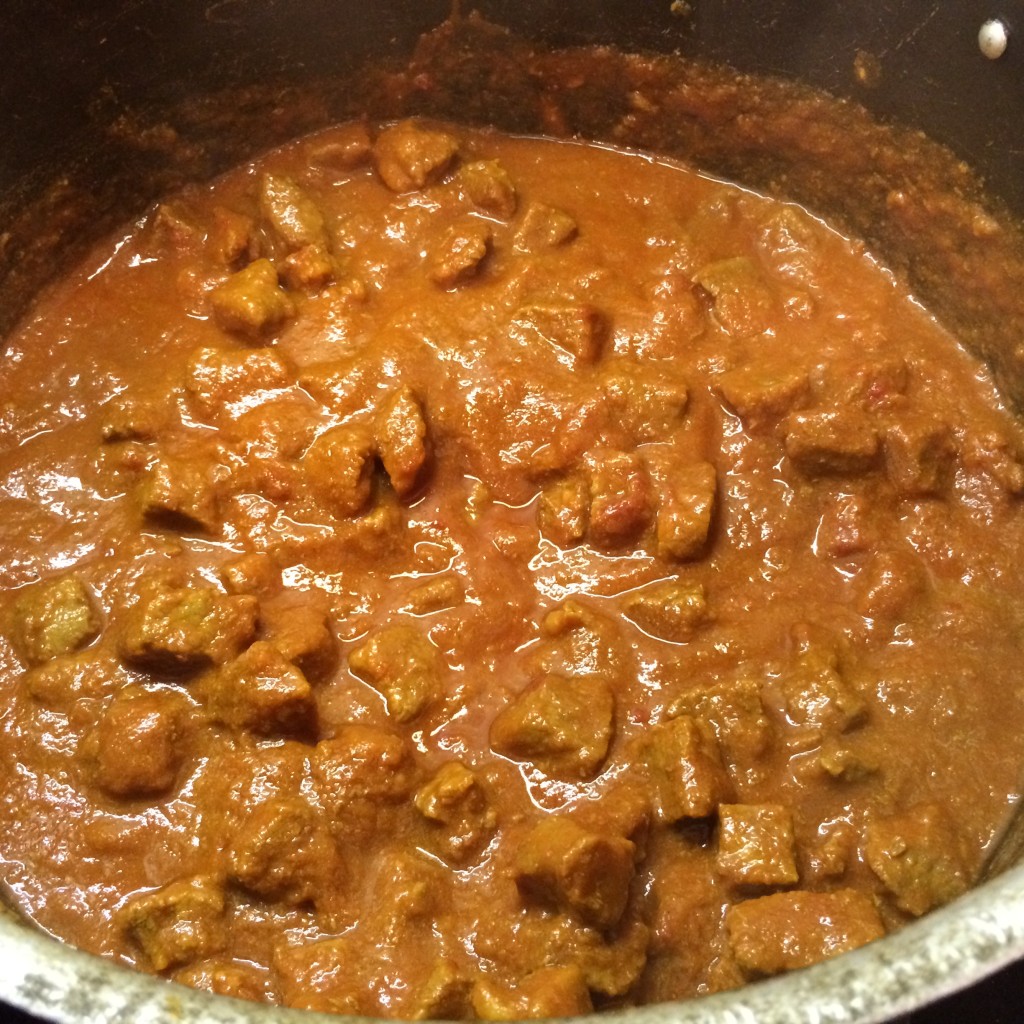 Then add the cooked green beans.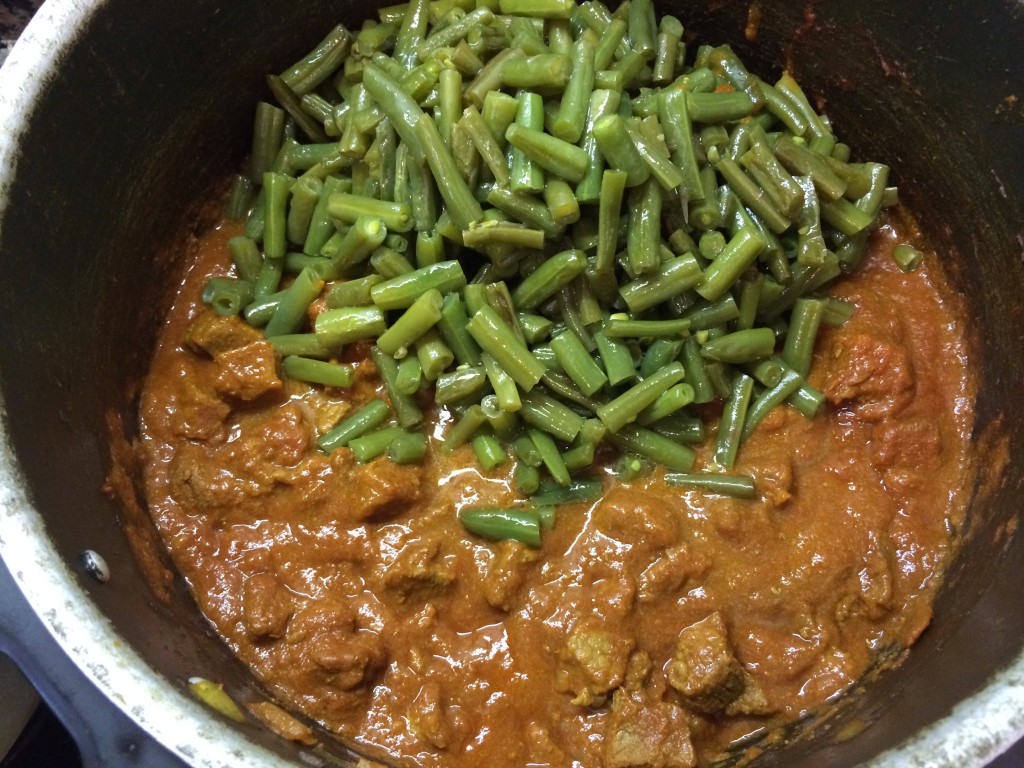 Mix gently, and then add about 2 tablespoon of "Adveeyeh" which is Persian All-Spice. It is a custom blend including cumin, curry, pepper, and is used to season rice and meat dishes. Also add about 2 teaspoons of salt, to taste, and about another cup of water.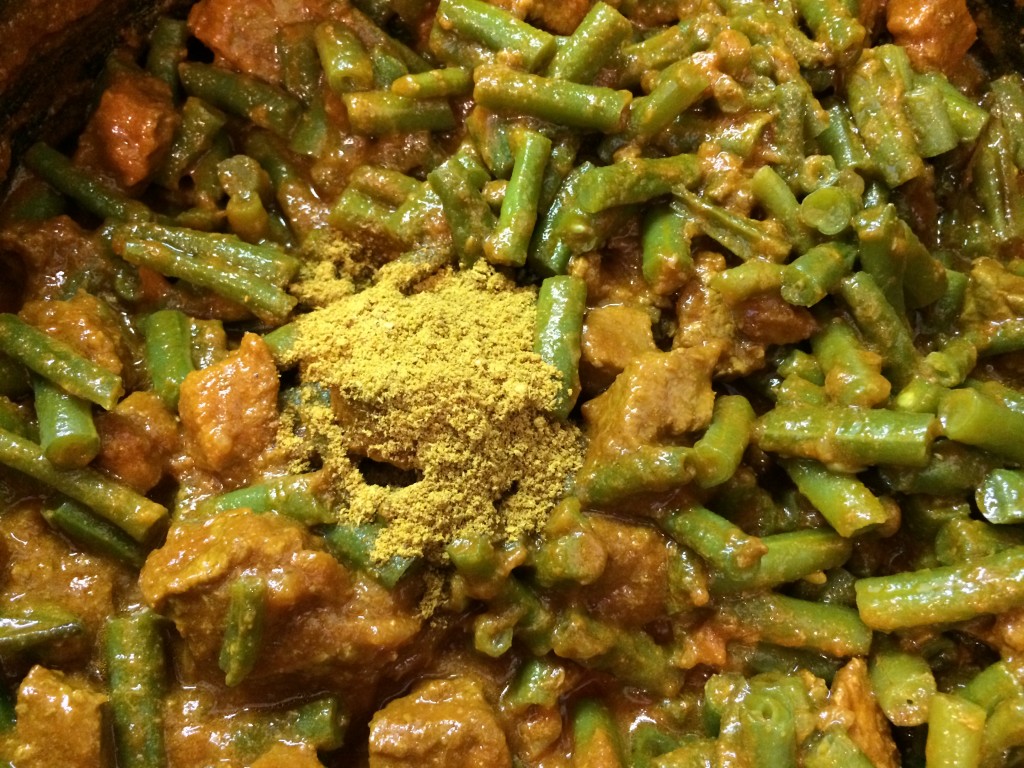 Cover again and let everything cook together for another 20 minutes.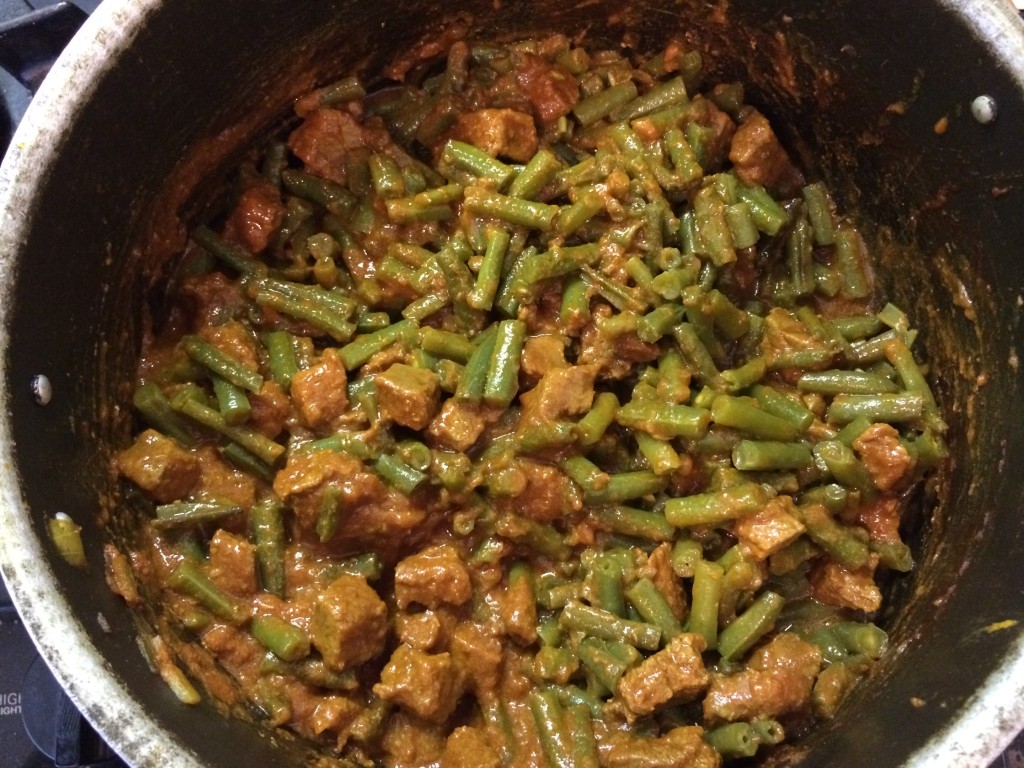 You can serve this Green Bean and Beef mixture as a "Khorest", or stew, over white rice or combine the rice as we are doing today. I personally prefer the combined version.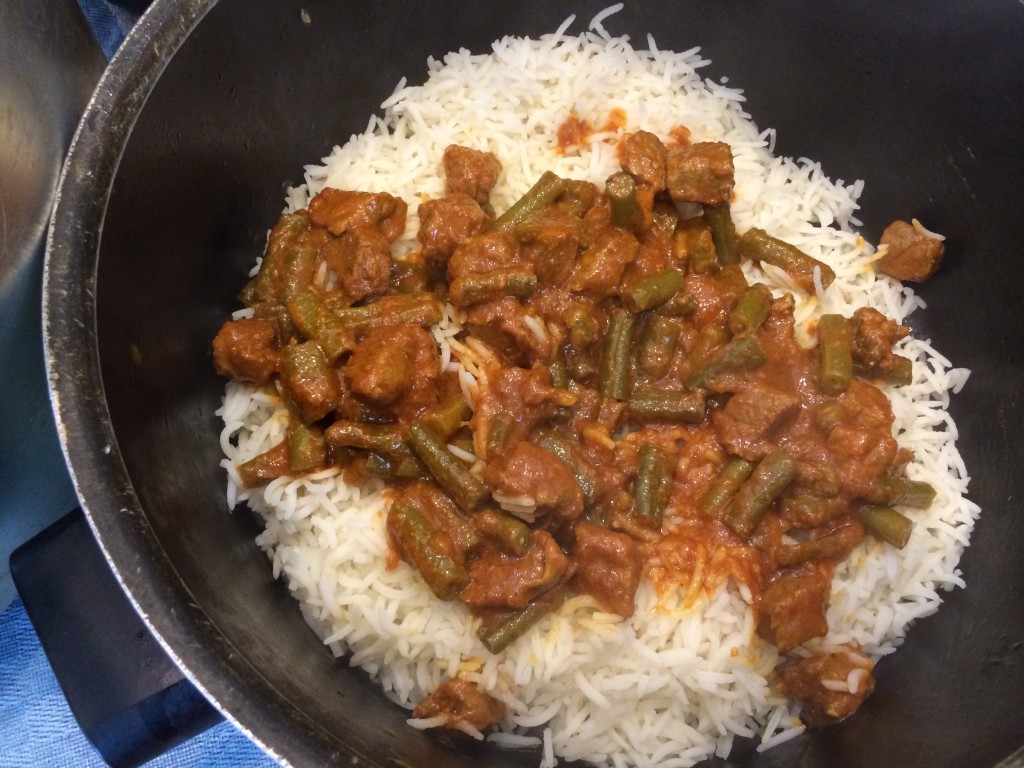 The best way to finish preparing the dish is to layer the Green bean/beef mixture with white rice and cinnamon in a separate pot, and allow to steam together before serving. You can then serve on a platter if you are entertaining at home, or take the pot straight to the park, which is what we did for Sezdeh Be-dar!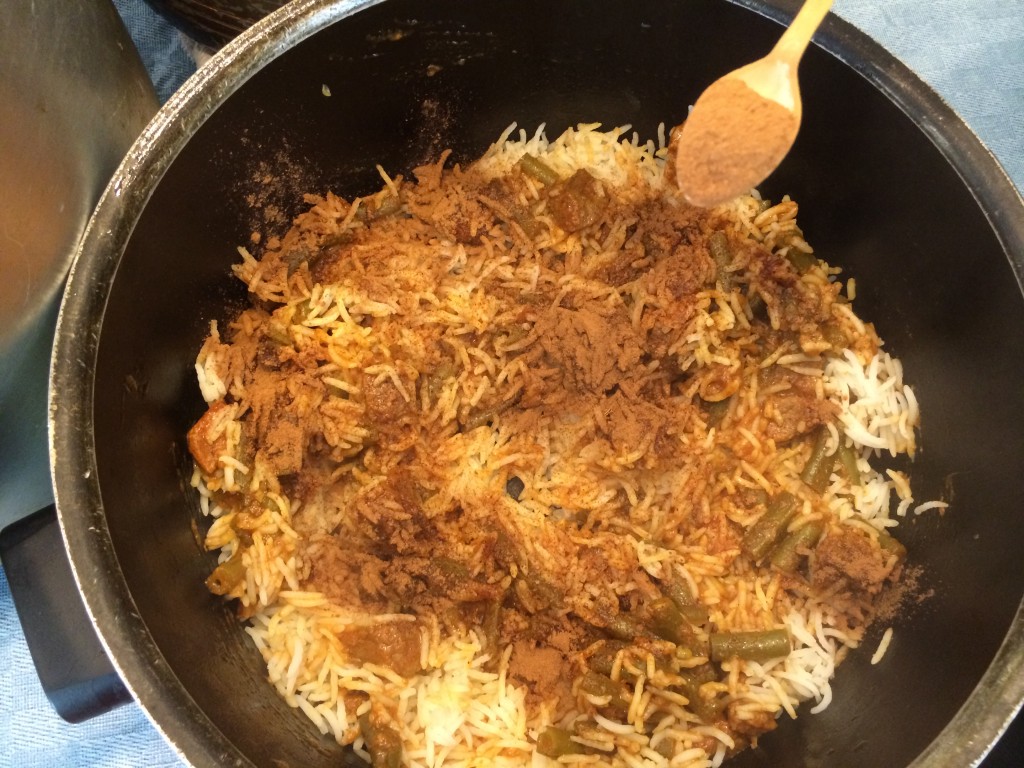 Cinnamon is a key component of this dish. I've been taught not to add cinnamon earlier in the recipe as it will darken the sauce and rice, but don't forget to add it!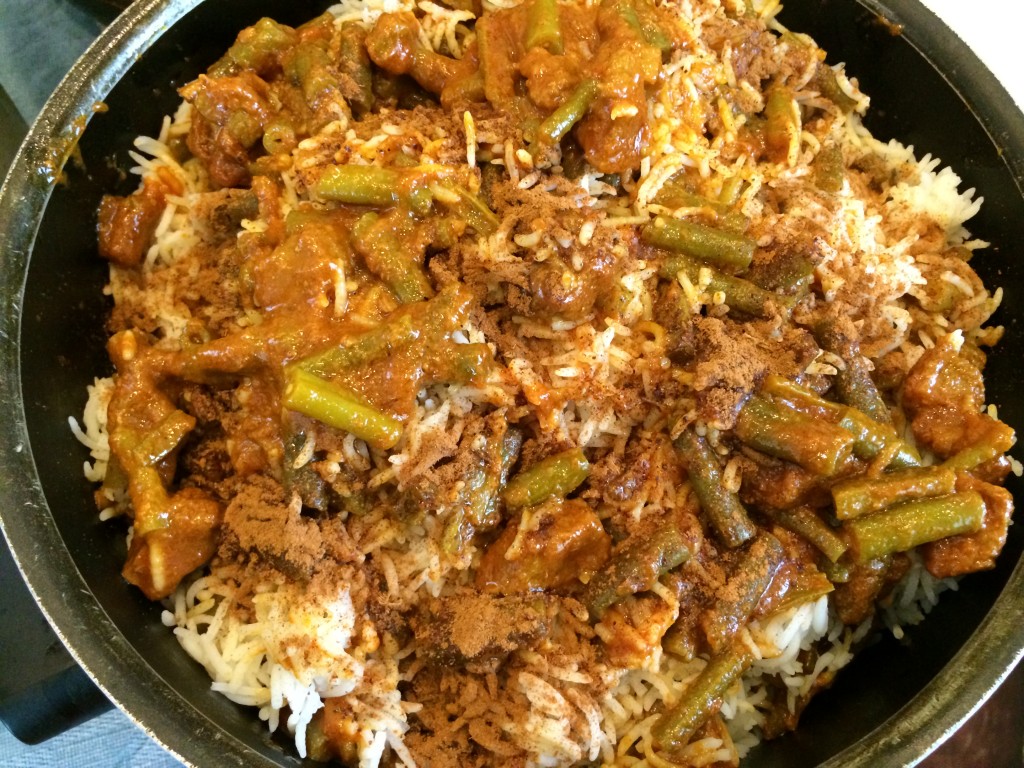 So pack up your paper plates, tablecloths, and thermos of tea and head on out to your nearest park and enjoy your Lubia Polo outside! It's good luck!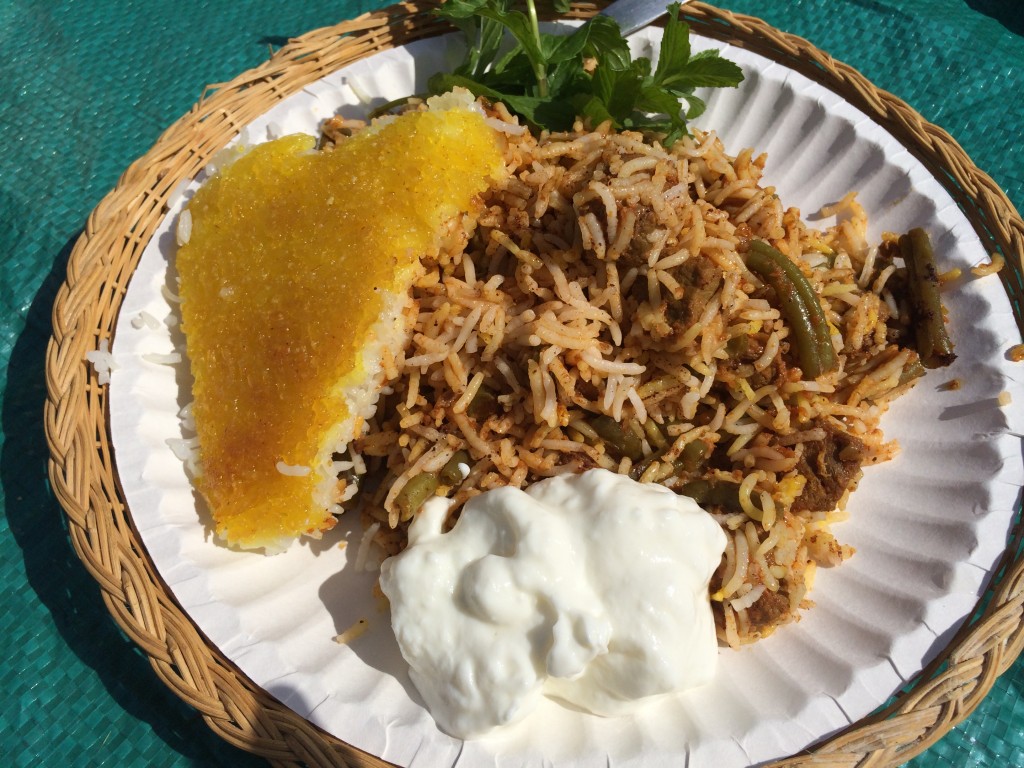 It makes a great meal to give to your friends too.  Here is the one I took to my friend's house who just had a baby.  They loved it!