Persian Vegetarian Eggplant Stew – Khoreshteh Bademjan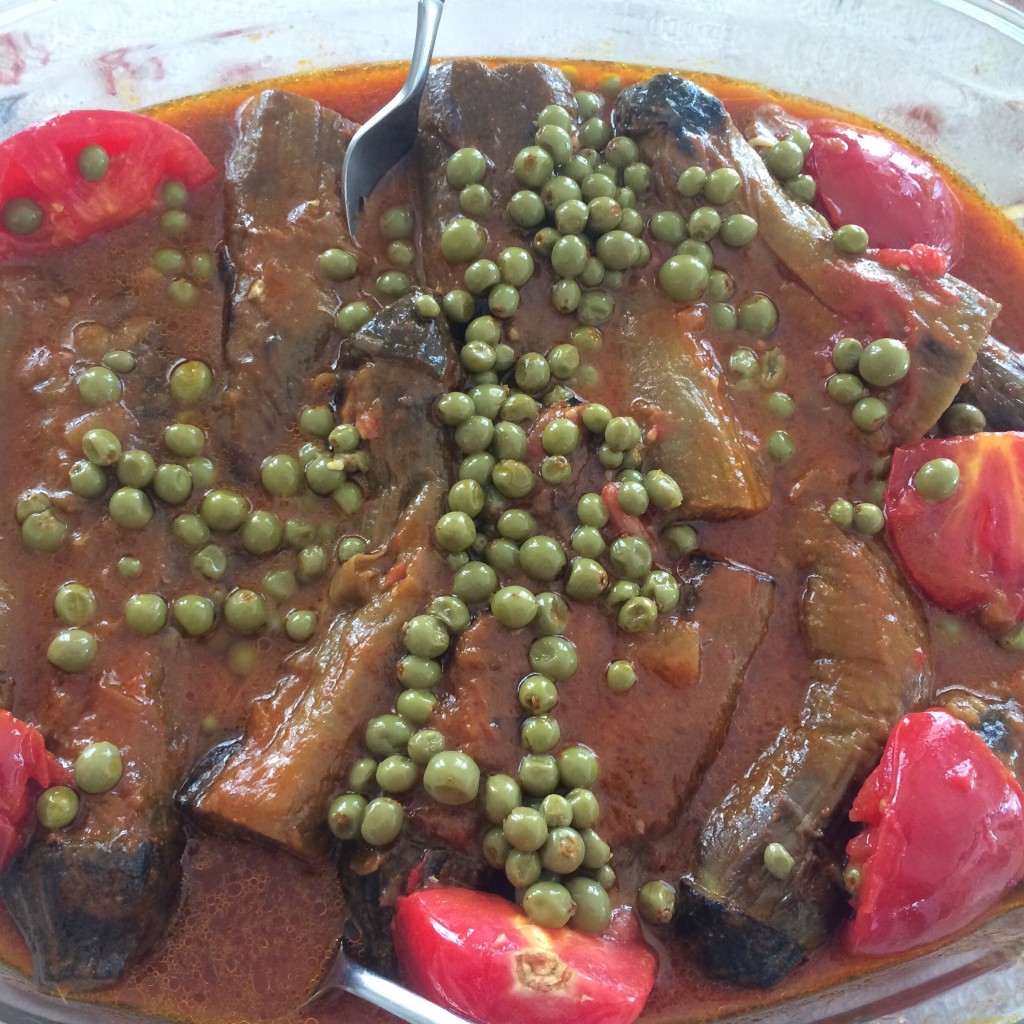 Since I was a little girl, one of my favorite Persian dishes has been Khoreshteh Bademjan (Eggplant stew) which is cooked in a rich tomato sauce and garnished with sour grapes called ghooreh.  This crowd-pleasing dish can be cooked with a variety of meats such as lamb, beef, or chicken, or even vegetarian style, which incidentally also doubles as a vegan recipe if you were interested in that.
Today I'll focus on the vegetarian/vegan version, served on a bed of white rice and saffron Tadeeq!!  (If you don't know what tadeeq is, it's the coveted crunchy rice at the bottom of the bottom.  I owe a recipe specifically on tadeeq, so more to come on that soon!)
This recipe is lighter and healthier than the traditional Khoresteh Bademjan version which actually fries the eggplant, resulting in a heavier and more oily stew.The recipe for Khoreshteh Bademjan starts with Eggplants, and, of course, onions – the basis of almost all Persian khoreshts or stews.
Ideally, use the Asian style of eggplant that is longer and more slender than traditional bulb eggplants, but either one will work.  If using the bulb variety, cut the eggplant into 2 inch strips and follow the rest of the recipe as is.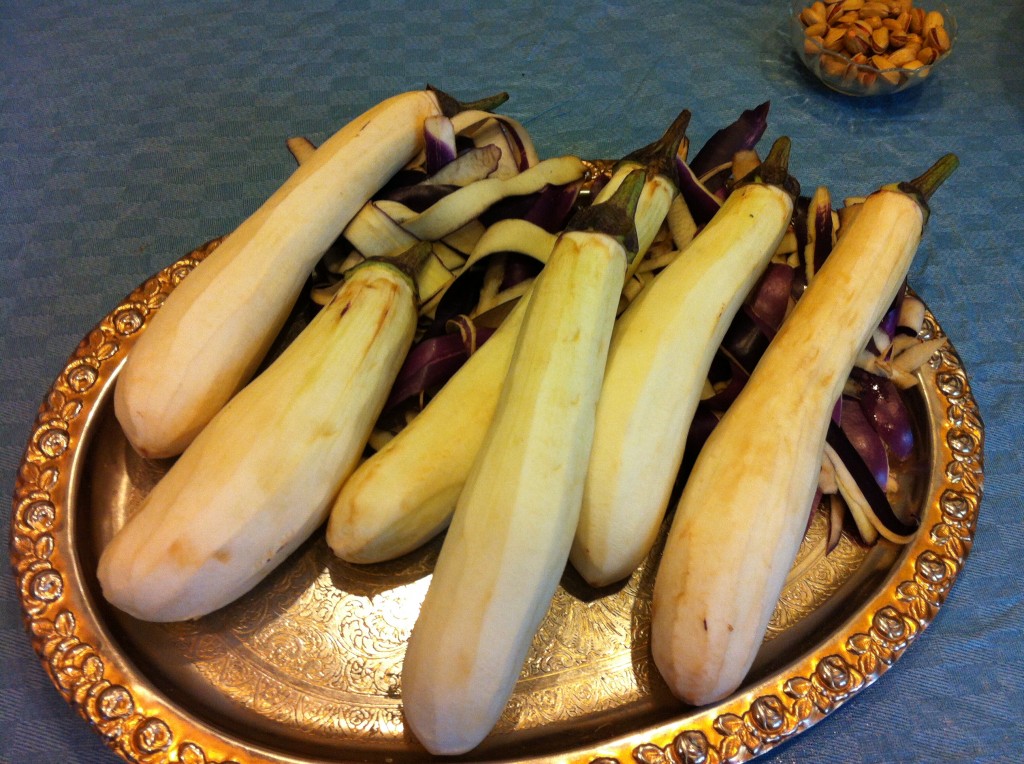 Prep the eggplant by peeling and salting them.  The salt will pull out the bitterness of the eggplant so pat off the pieces with a dry paper towel before cooking.  Putting the salted eggplant out in the sun for 30 minutes will help pull out extra liquid.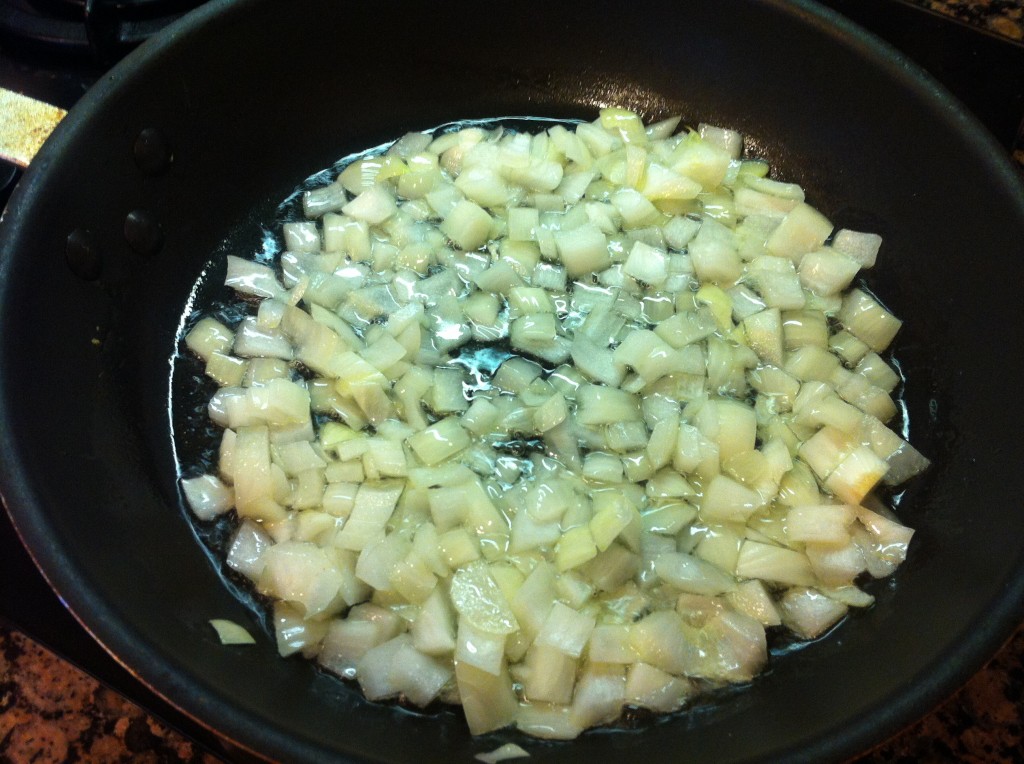 Next up, fry up 2 small yellow onions in vegetable oil in a shallow pan.  Once they start to get translucent and slightly browned, go ahead and add in 1 teaspoon of turmeric, cook for about 60 seconds and set aside until the eggplants are ready to go.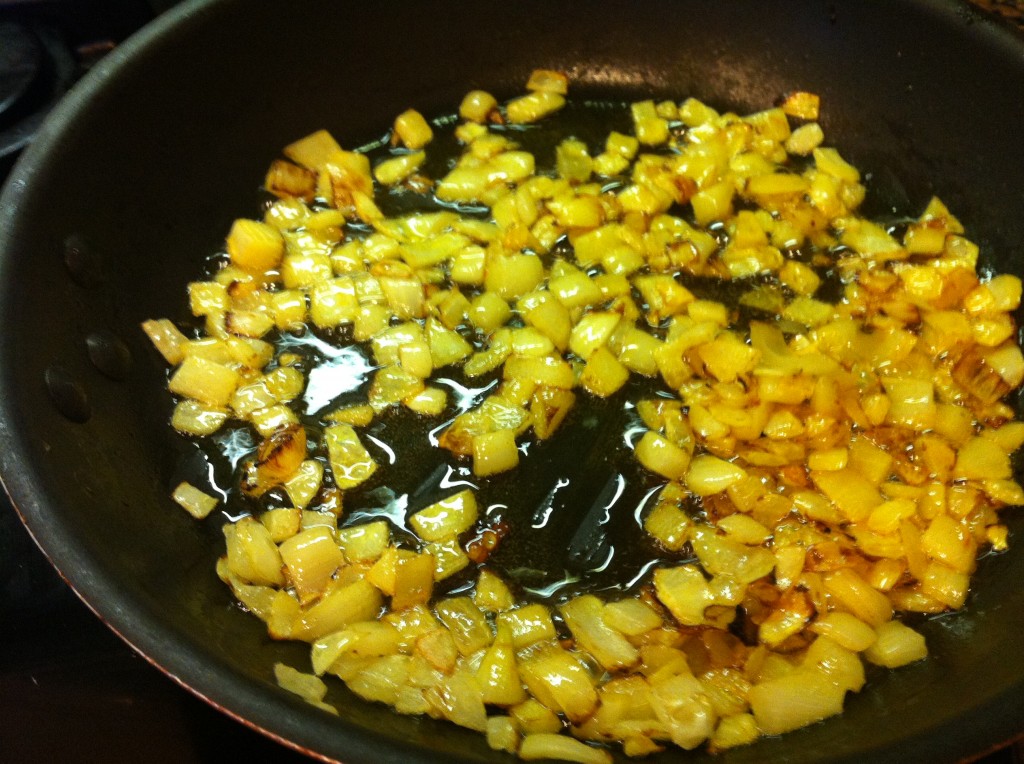 Cut the eggplant into serving size pieces and arrange onto a foil lined baking sheet.  A helpful tip for thicker pieces is to make a slit in the eggplant flesh so that it cooks more evenly.  Brush each piece with vegetable oil, and place directly under a hot broiler.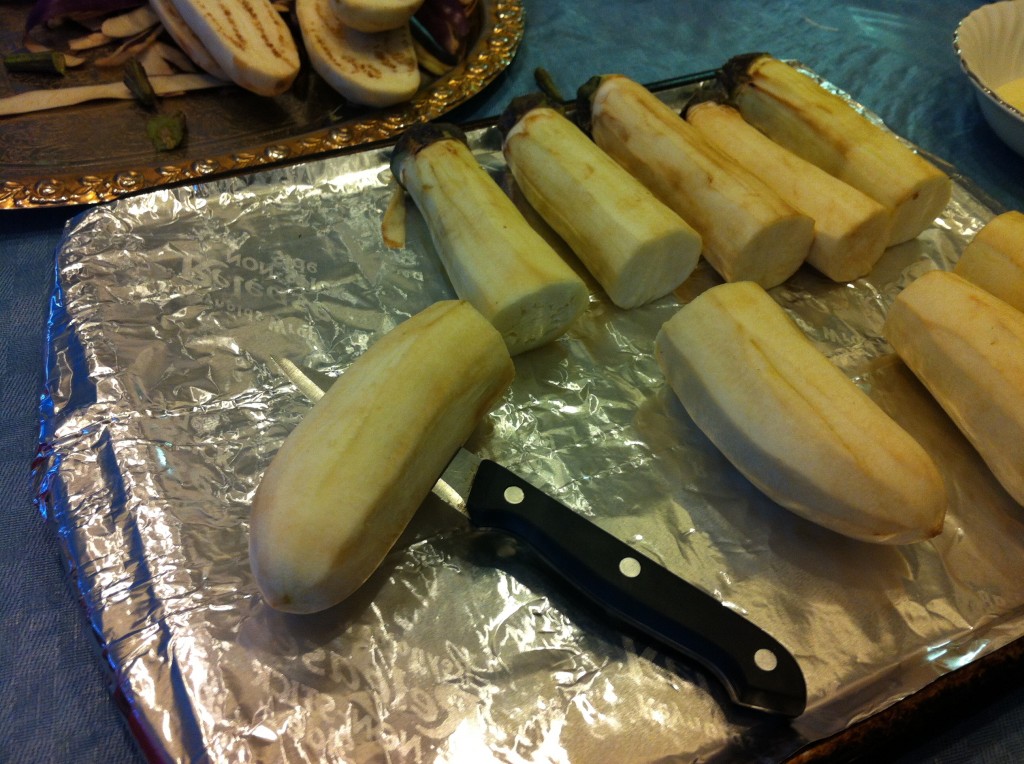 The traditional method here is to fry the eggplants in oil, but by broiling them you still get the char and flavor, but without all the fat.  Keep a close eye on the eggplant and turn frequently to avoid burning.
Once there is a nice char on all sides of the eggplant, you can add them to the onions to finish cooking through.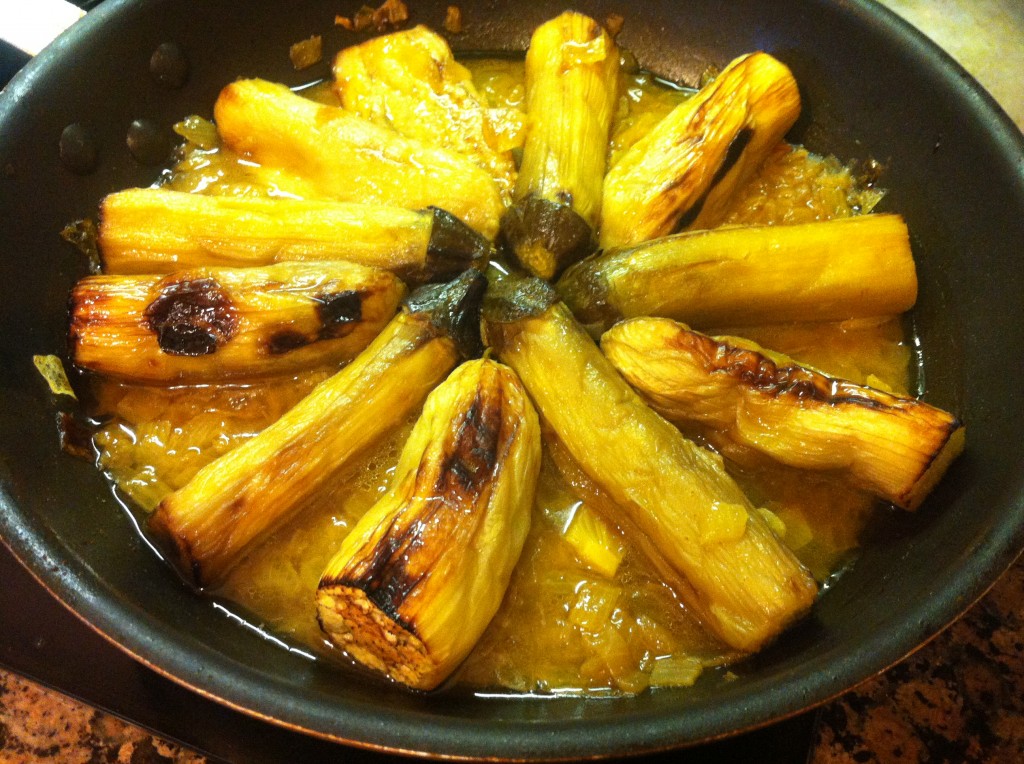 In a separate pan, fry up about 1/3 of a cup of good quality tomato paste in a few tablespoons of oil.  You just need to do this for a few minutes to really pull out the flavors of the tomato paste.  Take off the heat, and mix with the same amount of water to create a rich tomato sauce.  Add this to the eggplant and onion mixture and simmer on medium/low, covered, for about 20 minutes.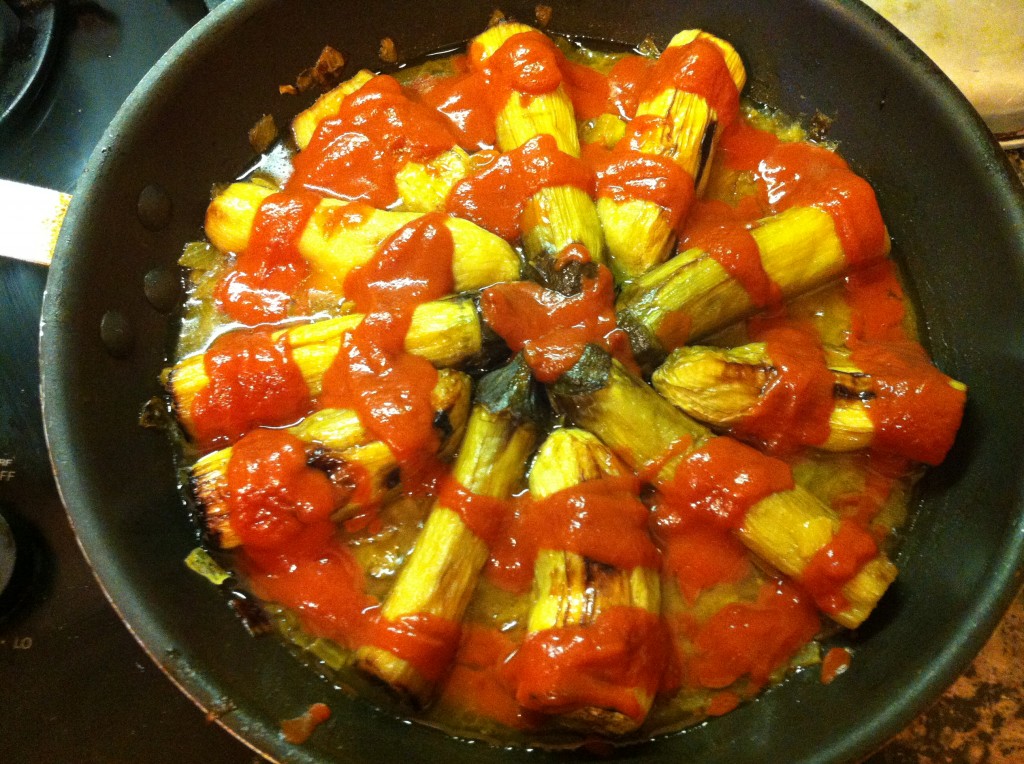 At this point, sauté 2 tomatoes and the "ghooreh" in a little more vegetable oil and add to the pan with the eggplants as well.  Ghooreh are tiny sour grapes, essentially grapes that have not yet fully developed yet.  They add a tart bite to this dish and are a Persian favorite.  If the tartness is too strong, or you are having difficulty finding this ingredient at your local Persian market, feel free to omit it from the recipe.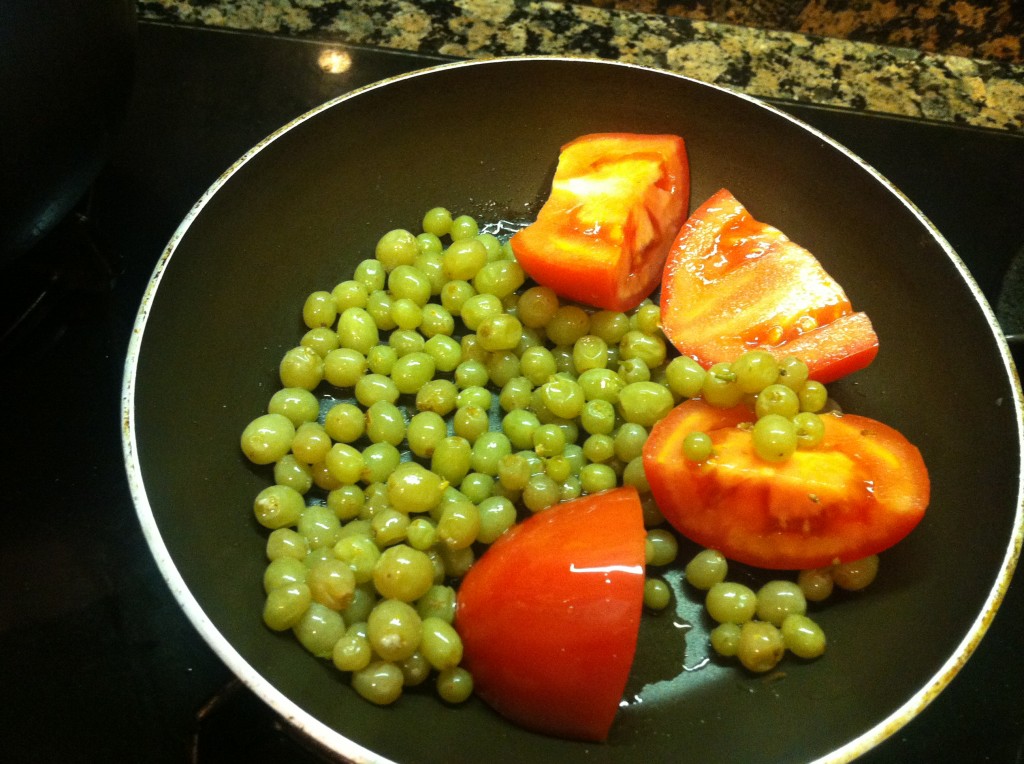 Cook the stew for another 20 minutes, adding salt and pepper to taste, until the eggplants and tomato are fork tender.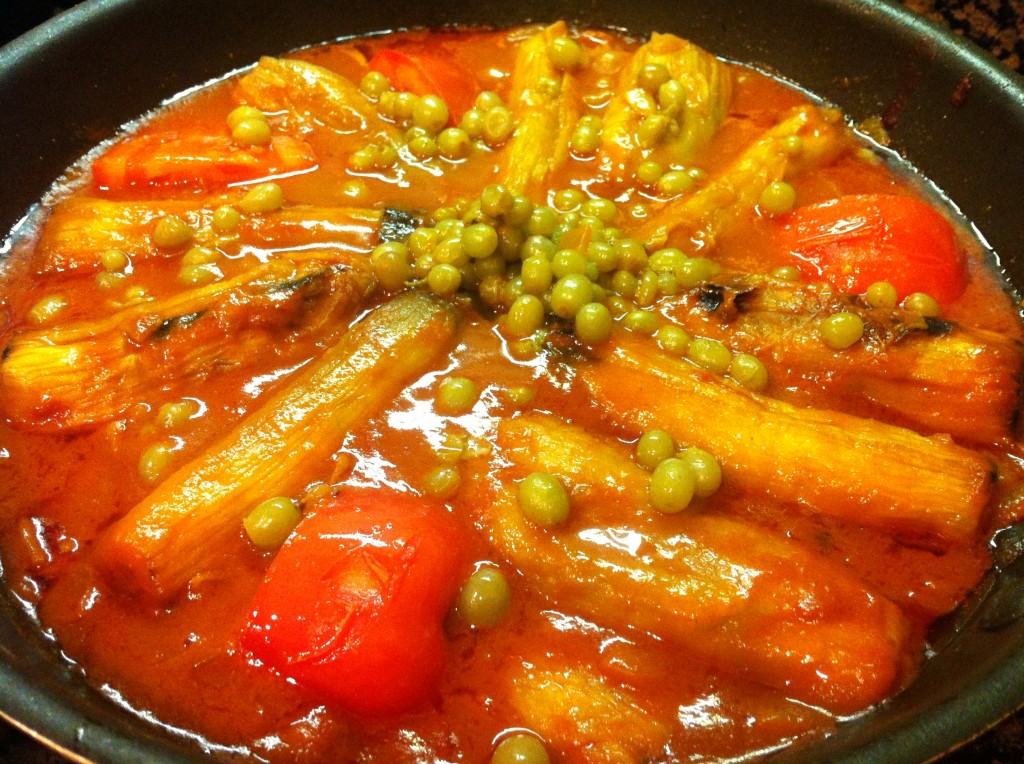 Serve your Khoresteh bademjan over hot Basmati rice to your family and friends for a great vegetarian meal.  It also tastes delicious in a soft roll or barbari bread with fresh mint for a Persian inspired sandwich.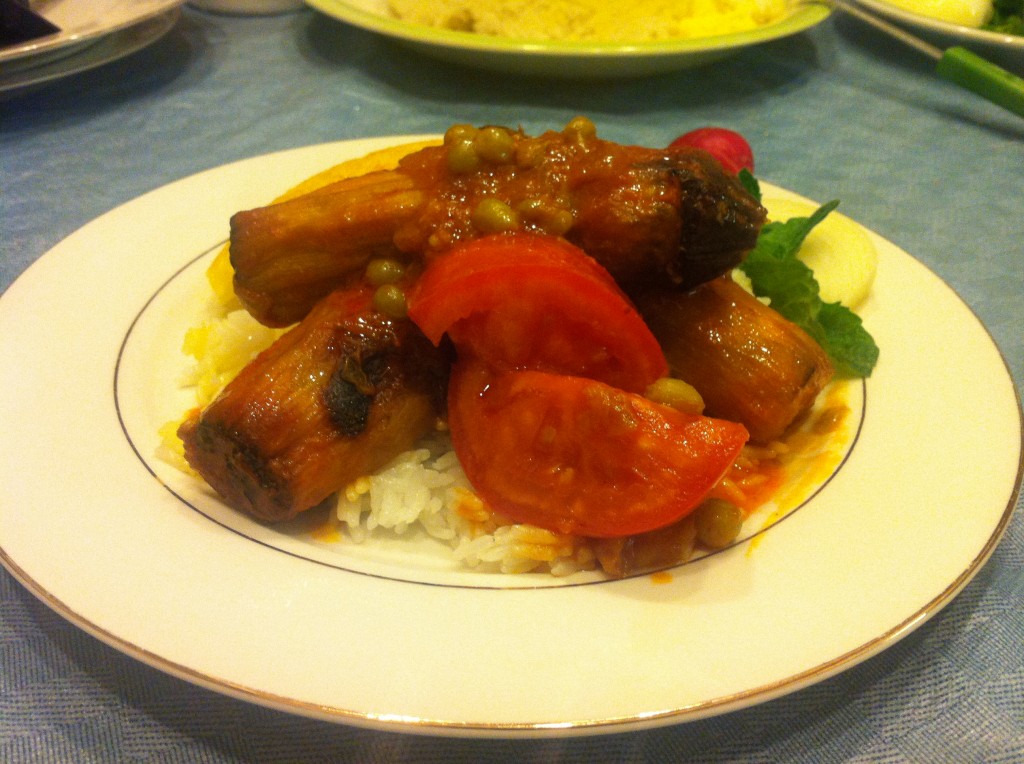 Enjoy!
Recipe list:
6 Asian Eggplants
2 small yellow onions
1 teaspoon turmeric
1/3 cup good quality tomato paste
1/2 cup of vegetable oil
1/3 cup "ghooreh" or sour grapes (optional)
2 tomatoes